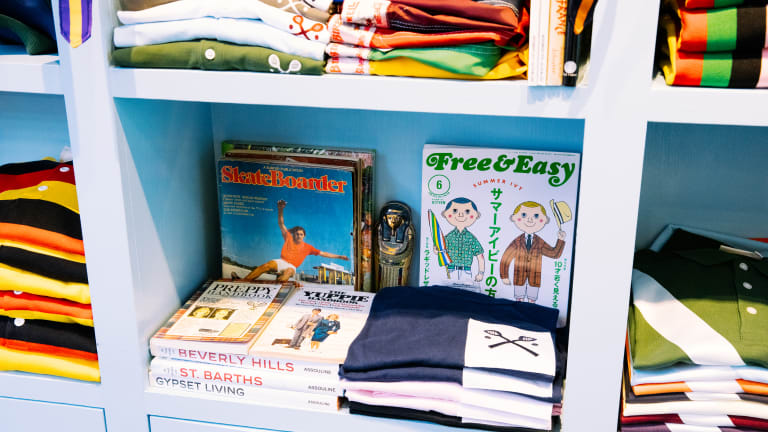 Inside Rowing Blazers' Super-Cool West Coast Outpost
Rowing Blazers, the irreverent New York-based brand that's taking over the men's style scene, just opened their first West Coast outpost today in the Brentwood Country Mart amongst a diverse mix of tenants ranging from an old school burger joint to a Visvim concept space.
Their shop is inside the U.S. Post Office at the Country Mart, which still acts as a functioning post office where you can mail letters and buy stamps and even candy.
It's tiny in size – no sprawling ping pong tables or vintage arcade units like their New York flagship – but filled with a stylish, curated selection of tees, polos, rugbies, dad hats, and, of course, blazers on top of the brand's signature design style and taste.
"The Country Mart is classic. And there's nothing quite like it anywhere else in the world. It's real old L.A. but it's also the spot where some of the coolest people in the city hang out," says Rowing Blazers founder Jack Carlson. "It's cool without being flashy. And what could be better than doing a pop-up inside a post office?"
Their four-month residency starts today, so make sure to stop in if you're in the area.