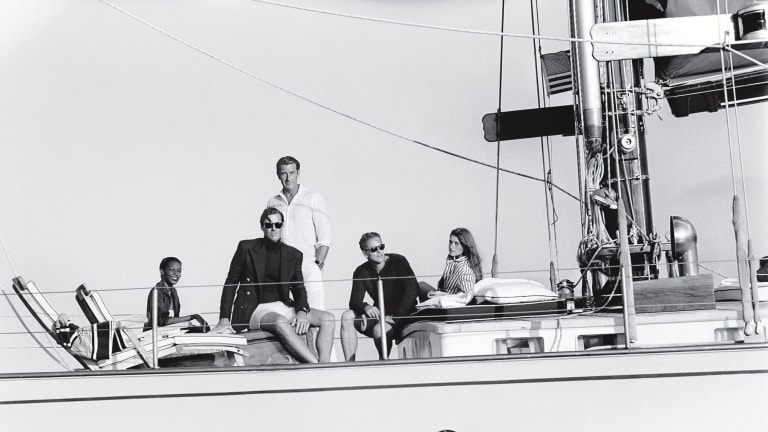 Ralph Lauren Celebrates 50 Years of Classic Style in Coffee Table Book Form
Top shelf.
In 1967 a young man from the Bronx with loads of vision but very little money started selling beautiful ties based on the ones worn by one of his idols, the Duke of Windsor. Fast forward 50 years and Ralph Lauren is the head of a global empire of good taste with a personal fortune of nearly $6 billion. One of the world's greatest designers, he's transcended fashion to create an entire lifestyle of aspirational yet attainable apparel, accessories, housewares, fragrances and furniture, all the finest and most desirable of its kind.
From his earliest ad campaign images like the one above to his latest fashion show which took place inside the garage/gallery housing his eye-popping car collection, Ralph's execution is always flawless, with the effect of ripping your attention away from quotidian cares. One look will have you dreaming of living in Ralph's world, at least for a few minutes but more likely forever, and most men of style have had his designs and products in our lives from a young age.
In celebration of his 50th anniversary, Lauren has released a beautiful new edition of his self-titled coffee table book published by Rizzoli, expanded and updated and best of all now available on Amazon. The weighty 500-pager features nearly 1,000 photos and illustrations from all phases of Ralph's illustrious life and career, covering stunning collections that have transported us from African safaris to English country estate and Tribeca lofts to Jamaican villas, impeccably turned out and tailored at every step.
"I break the rules to expand the thinking about what we wear," Ralph notes in the book. "Most men don't have the luxury of expressing their individuality this way. They are constrained by the business environment or by what is considered acceptable. I believe in dressing appropriately; you don't need to challenge the system, but you need to express your individual taste. If a suit is called for then express your taste through its cut, through the patterns of the shirt and tie. In any environment, it's the personal details that become the truest form of self-expression."
We couldn't have said it better. In 50 more years Ralph's clothes will still look classic because he is always focused on "the things that never go out of style." Happy anniversary, Mr. Lauren, and thanks for making the world more beautiful....