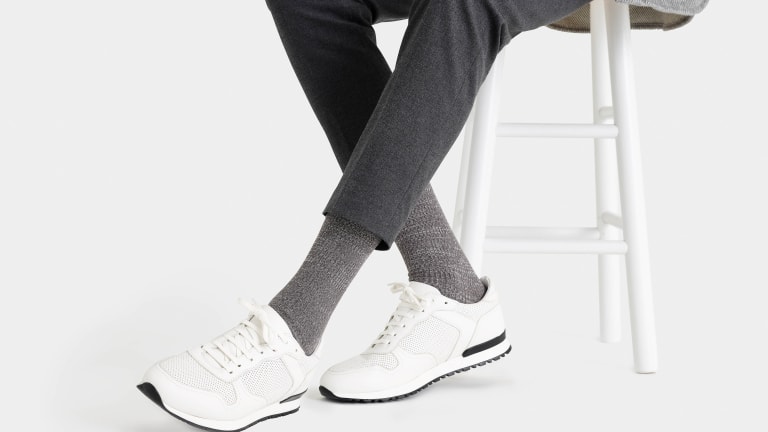 Italian-Made, Transparently Priced & Loaded With Style: These Sneakers Have It All
After launching bags and accessories with great success, Oliver Cabell is stepping on the gas and entering a whole new category: footwear.
The launch shoes, a minimalistic low-top and a retro-inspired runner, are handcrafted using the best materials money can buy, like full grain leather from the same tannery that supplies Prada and Saint Laurent, outsoles from iconic Italian suppliers Margom and Dami, and waxed canvas shoelaces from a 115-year-old factory.
Like their other goods, they have complete transparency when it comes to pricing, sharing the cost of everything from in-soles ($1.80) to transit ($12.43) to packaging ($3.96) at the point-of-purchase. It's an imaginative, welcomed marketing move that makes you wonder why more companies haven't followed suit.
On top of the new releases unveiled today, Oliver Cabell plans to incorporate a "drop of the week" model, pumping out new pairs and limited runs on a regular basis. A perforated leather sneaker is set to hit their online store on March 9th, with a follow-up colorway released the following week. Colloborations with various men and women of note are also in the works.
The two launch sneakers are available now in a handful of colors with pricing starting at just $174 and a non-gendered sizing model based on the European 36 to 42 charts. Each purchase comes with a complimentary cotton dust bag and set of shoe trees.