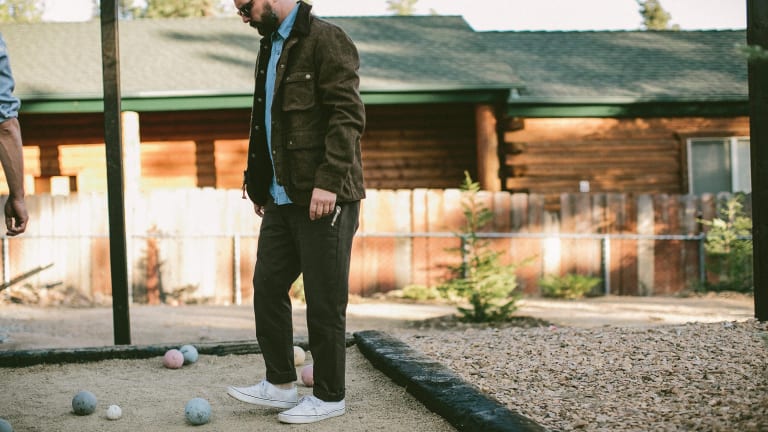 The Perfect Jacket for Duck Hunting, Road Trips, and Sampling Single Malt by a Camp Fire
Slip into autumn in style.
Yes, there are still several weeks of summer left. And yes, it's also not too early to start thinking about fall. Especially for those of us who live in cooler climes, once Labor Day hits, swapping the linen and cotton for denim and wool is not a matter of etiquette but a fact of life. And we wouldn't have it any other way.
Which is why we love Taylor Stitch's crowdfunded pre-order system that lets you save serious money by planning ahead, sartorially speaking. Advance orders help them reduce prices by anticipating demand, keeping your bank balance healthy and your wardrobe in even better shape.
And while many of T.S's pieces are vintage inspired, they're always finding ways to improve on things that gentlemen of taste have been wearing for decades. Take their newest offering, the Rover Jacket in Oak Herringbone Waxed Wool. On the face of it a classic tweed field jacket, but in fact so much more.
For one thing, Taylor Stitch has taken what's usually a boxy, slouchy silhouette on these sorts of jackets and delivered the essential, modern but never too-tight fit that's one of their signatures. And on top of that, they've come up with a way to give it a waxed, waterproof finish that extends both its life and practicality.
T.S. worked with two historic UK fabric mills to create this brilliant new garment: Abraham Moon & Sons of Yorkshire milled the custom herringbone wool and then passed the fabric on to the experts at Halley Stevensons of Scotland for the perfect dose of weatherproof wax.
The jacket was then made up by hand in California, making this a hybrid of the very best sort, built to keep you warm and dry for many seasons to come. Available for pre-order now at an eminently reasonable $248, the finished product will be delivered in October right when you need it most.