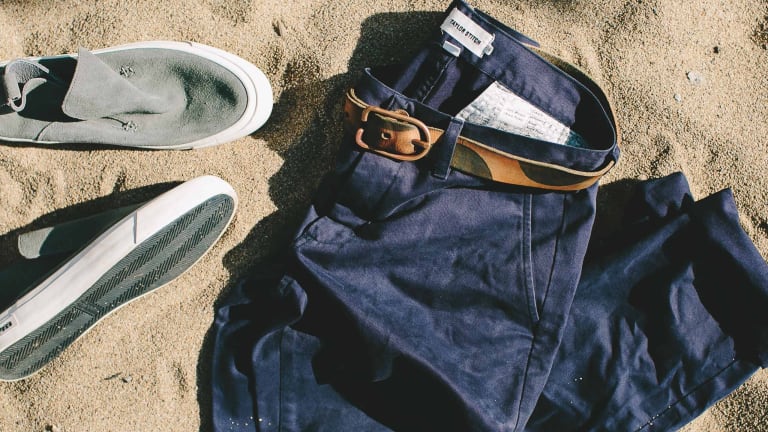 Crush Fall Style With These 'Bombproof' Chinos
Twill seeker.
It sounds like a simple proposition, yet anyone who's ever tried to find them knows the truth: chinos that are super comfortable, extremely hard-wearing, and well priced are very hard to source. The comfortable ones tend to fall apart after a couple seasons, the rugged ones are stiff as a board, and "luxury" khakis – a pretty silly concept to begin with – that do manage to satisfy on both counts are way too pricey to contemplate.
Once again, the geniuses at S.F.-based clothiers Taylor Stitch have solved a menswear conundrum, coming up with the most comfortable and hardest wearing chinos you can buy, full stop, at a price that makes sense. They're both "bombproof" – i.e. gutsy enough to take on anything life can throw your way yet as cozy as your favorite pair of sweats, with a lot more style.
T.S. is offering two styles to suit the sartorial needs of every guy: the Democratic Chino, and the Slim Chino, a more fitted version of same. As usual, Taylor Stitch compared hundreds of the best fabrics from around the world in order to figure out how to make something better – a 10 oz. brushed twill, which they proceeded to have custom milled in Spain.
Soft, sturdy, and built for the long haul, they're pre-shrunk, feature just the right amount of tapering, and have cool details like a custom printed vintage map of San Francisco on the pocket liners.
And as always with the T.S. crowdfunding model, if you pre-order some killer fall colors now, you'll get 20% off the retail price. Your move, life.....