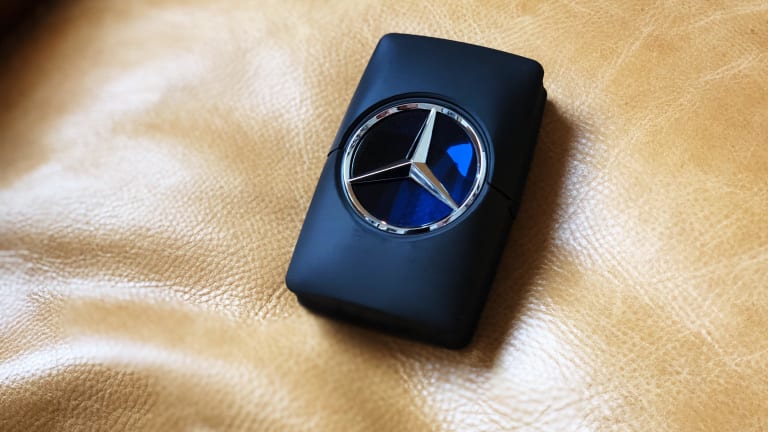 Mercedes-Benz Makes More Than Just Cars
When tradition meets innovation, something truly beautiful and timeless happens. Since 1886 Mercedes-Benz's innate sense of detail and design has turned heads in the automotive world.
Never content to rest on their laurels, Mercedes-Benz has expanded beyond the car market and develop a full lifestyle experience, with ventures in design, fashion, and beauty.
So it was only natural for them to bring the same singularity and renown that made their brand so recognizable into the world of perfumery. Now, five years on, their perfume bottles for men and women are known for their intuitive design and passion for the rare and unexpected.
While more subtle than the suit, the history of fragrance in the culture of the modern gentleman cannot be ignored. From Ian Fleming's infatuation to Floris No. 89 to the more comical references in movies such as Anchorman, fragrance has been an essential element of the refined man.
True to the nature of Mercedes-Benz Man, both their new fragrance and the bottle that holds it underwent the utmost scrutiny and care during its conception and creation. For the fragrance, Mercedes-Benz teamed up with world-famous master perfumer Olivier Cresp to create a timeless and sophisticated mixture that is at once aromatic, woody, and fruity. Cresp uses a very intense aromatic heart of cedar leaf and geranium to embody masculine elegance while blending subtly modern pear notes with ambrette seeds for a fresh contemporary result. He then incorporates a deep, woody trail that is liberated by sophisticated palisander rosewood and complimented by oak moss for a luxurious and clearly defined composition.
At once splendid, high-tech and timeless, the bottle's design builds on the iconic fundamentals of Mercedes-Benz Man. The masterly crafted glass and metal bottles are clad in a soft-touch matte black, with the pure chrome lines of the emblematic Mercedes-Benz Star standing out against a deep blue ground. Bold and luxurious, innovative but discrete, the bottle oozes a subtle class that can only be captured by the finer things in life.
This masterclass from Mercedes-Benz might just be the perfect Father's Day gift – if you can manage to refrain from keeping it for yourself.
Want to have one bottle of your own? Make sure to follow @mercedesbenz.parfums on Instagram and comment on this post to participate.