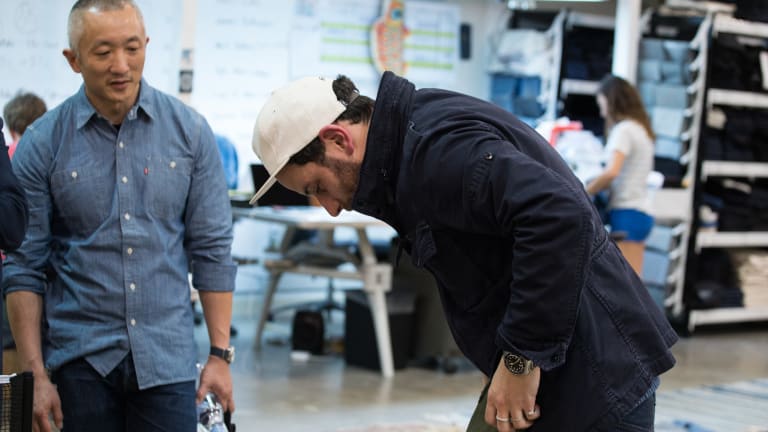 Get Your Cool On Thanks To These Custom Levi's 501 Jeans
Made in the USA for a solid fit.
Not a stranger to the menswear scene, Josh Peskowitz is a stylish vet who puts ideas first, followed up with hot-shot craftsmanship as a close second. His latest outpost, Magasin – "store" in French – puts his storytelling to the test, all of his offerings inhabit the space to marry craft and innovation. To help support his vision, Peskowitz approached Levi's to collaborate and design an unique denim product to help narrate the story of traditional garments with a new spin.
Peskowitz took a paper sketch to Levi's Head of Design, Jonathan Cheung, and was gladly welcomed with open arms. His blueprint was an idea to rethink Made in the USA, custom 501 jeans. After spending a day at the Levi's Tailorshop – the Eureka Innovation Lab – the rough vintage jeans design was brought to life in two shades of indigo.
"Josh wanted to add a little weirdness to the 501 and we're totally up for that. So we hand picked a selection of Made in the USA, Kurt Kobain era, vintage Levi's and together with our Eureka Tailorshop, worked some Peskowitz kung fu into these 501's." – Jonathan Cheung, Head of Design, Levi's.
The Levi's Eureka Tailorshop 501 x Magasin 501 is a first-rate collaboration jean resulting in a signature piece for the store. It features a cropped length and split hem at the bottom, with extra room in the seat and interior, which is perfect for guys with more athletic builds. Each slim fit is custom distressed on its faded vintage denim. To be dressed either up or down, these 501s are an exclusive result enabling the freshness of the Magasin store DNA.
We're keen on uniting a brand's continued belief in tradition and quality. And could not be more excited to check out this rare specialty Peskowitz and Cheung created. At $295 a pop, we couldn't think of a better reason to stopover at the newly opened Magasin in Culver City, California.