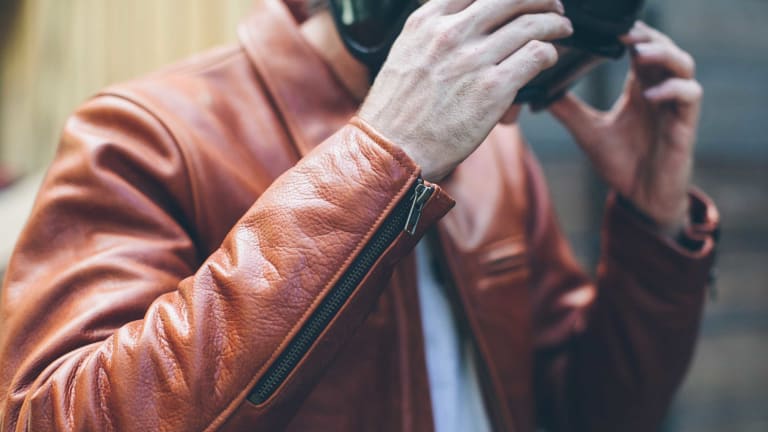 8 Lust-Worthy Leather Jackets Designed to Last for Generations
Permanent style.
There are certain items of clothing that you acquire for a lifetime, not a season. A really well-made leather jacket should be one of them. It's well worth investing in a proper one that you'll wear for decades. But that doesn't mean you have to take out a second mortgage if you're prepared to shop smart.
Here we've selected seven examples that blend great style with sensible pricing given that this is a wardrobe staple you can wear with almost anything. While every man needs to own a classic black leather motorcycle jacket at some point in his life, these days there are lots of other options to explore, including dark blue, brown, and grey.
We can't say enough good things about Taylor Stitch, the brilliant SF-based crew who are redefining modern classics. This is one of their true legacy pieces, based on an actual 40-year-old heirloom made in California when things were built to last. This comes in the perfect shade they call "whiskey" with their signature attention to detail that's above and beyond.
This classic motorcycle jacket has one simple, brilliant twist: it's dark blue suede instead of black leather. That means you don't have to go full rock & roll – it'll look great with white jeans and a striped shirt on summer evenings when it cools down. It's also a ridiculously good deal at just $200 on sale.
Which is not to say we're eschewing the iconic black leather version. But don't spalsh out on the first one you see thinking they're all alike: this number is from Schott, makers of the original Perfecto, and comes in an updated retrofit with a slimmer, shorter silhouette. Joey Ramone will be jealous.
Kors may suffer a bit from over-exposure, but the lads at Mr. Porter agree with us that he knows a lot about good design. Steve McQueen would kill for this updated version of the iconic Harrington jacket he used to favor, in a trimmer fit made of butter soft suede. In dark navy with horn buttons to boot.
This moto-inspired leather jacket with lightly pebbled grain and shiny nickel zippers will only get better (and cooler) with age.
Another solid hit from Michael Kors, this is an upgrade of the classic field jacket in a great buff color that's awash in laid-back style. Unlined and made of butter-soft nappa suede with tortoiseshell buttons it can make even the most mild-mannered fellow into a dashing adventurer.
The bomber is enjoying a much-deserved comeback, but to stand out from the crowd it helps to up the style quotient a bit. Which is wear this washed, slim fit version from Valstar comes in, in a cool shade of grey which will pair with anything from jeans to a knit silk tie – or both.
Occasionally you need to let your wild side show, and this racing striped number from classic British brand Belstaff is the sartorial equivalent of roaring up on a Triumph Bonneville. It's based on the Belstaffs worn by numerous motorcycling champions who've forged a lifelong devotion to the brand.