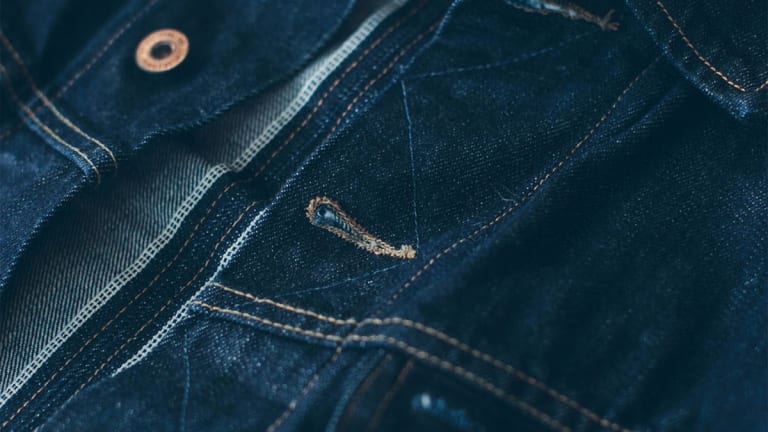 This Selvage Denim Jacket is for Legends-in-the-Making
Cone Mills magnificence.
James Dean. Marlon Brando. Steve McQueen. Much of the reason their names still resonate today was their ability to make classic items of clothing look like they'd been invented just for them. Their innate style led them to choose garments crafted with the holy trinity of authenticity, ruggedness, and practical good looks – while everyone else was going gaga for polyester.
Those same three principles are what have made S.F.-based clothing juggernaut Taylor Stitch such an immediate success. And part and parcel of the truly timeless pieces they produce is their affordability, especially given the fact that they're literally made to last forever. Take one of our favorite items, on the face of it a simple denim jacket; but as with all of the brand's offerings, it's much more than that.
The Long Haul jacket's name is a tribute to the more fitted 1960s version of the workwear classic that was adopted by truckers, as well as style icons like Dean and McQueen. What makes it immediately unique is the incredible fabric it's made of – 13.5 oz. custom selvage denim from iconic Cone Mills of North Carolina, which all but went extinct at one point as mainstream manufacturing moved overseas.
Made at Cone's historic White Oak factory, built in 1905, the selvage denim is produced on narrow shuttle looms from the 1940s and contains a depth and dimension – "warp and weft" to connoisseurs – that's otherwise found only on vintage pieces. Taylor Stitch calls its custom cloth, named Cone Mills '68 Selvage in reference to the year it was originally perfected, "American denim at its absolute finest," and we'd have to agree.
It's the ultimate in versatility as well, in a year round weight with minimal starch content making for a raw jean that's "more comfortable from day one and sure to fade into vintage perfection." Made by hand in California like all of Taylor Stitch's American classics, the Long Haul jacket has quickly become a bestseller for obvious reasons. Legends-in-the-making would do well to stock up.