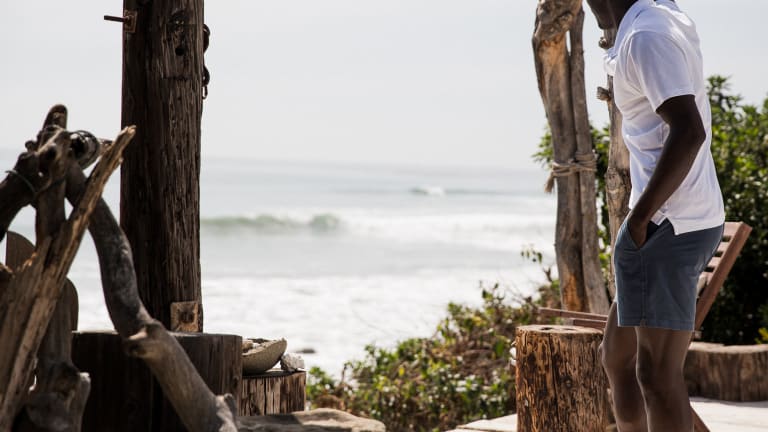 Finally, Swim Trunks You Can Truly Wear Beyond the Pool
By now, you should know that LA-based menswear brand Buck Mason makes some of our favorite basics in the world, from denim to tees and beyond. To kick off summer in style, they just dropped a fresh swim trunk that can (actually) be used as an everyday short.
A lot of swimwear companies will market their products as acceptable to wear beyond the pool. But at the end of the day, everybody still knows you're wearing swim trunks, no matter how nice or well-tailored. Buck Mason's take, which is cut from ultra-comfortable two-way stretch cotton (55% cotton/35% nylon/10% spandex), just look like shorts. So much so, I thought they were. Seriously. I was so confused by the shirtless model in the product photos until it finally dawned on me that these are actually designed for the water first, everyday life second. But that's what's so genius about them. You can wear these in literally any situation shorts call for, even if the nearest body of water is 100 miles away.
The swim shorts come in three different vintage-inspired, sun-faded colors that pair nicely with just about everything, pool appropriate or not. B.M.'s design also features an elastic drawstring waist that comes in traditional waist sizes (30, 31, 32...) instead of generic (S, M, L...) sizing, meaning they'll fit significantly better than most alternatives with an elastic waist.
And perhaps the best part is the price tag. At just $65, adding one or two of these to the warm weather rotation is even more of a must.