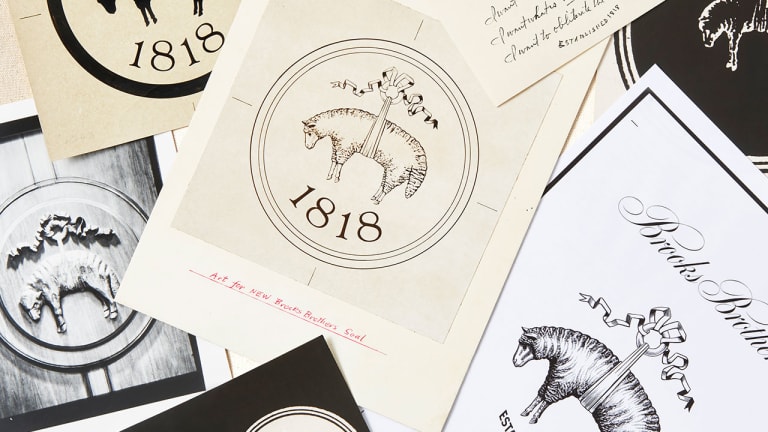 This Must-Have Coffee Table Book is a Tribute to Brooks Brothers' 200th Anniversary
Looking for a last-minute holiday gift? Pick up a copy of Brooks Brothers: 200 Years of American Style, just published by Rizzoli and available to order on Amazon. Edited by Kate Betts, it's a lavishly-illustrated tribute to the oldest and most storied American clothing brand, whose wares have been worn by everyone from Abraham Lincoln to Andy Warhol.
Established in 1818, Brooks Brothers has come to define traditional American style while managing to avoid being stuffy thanks to cool newer micro-labels like Red Fleece, which manages to riff on preppy classics and even clichés in a refreshing, well-tailored way.
In its two stylish centuries Brooks invented or improved and brought to America the original "Polo" button-down oxford, the striped rep tie, the gray flannel suit, and the camelhair overcoat, among other iconic items of apparel; and in addition to Lincoln and Warhol its list of high profile clients over the years includes John F. Kennedy, Miles Davis, Grace Kelly, Katharine Hepburn, Jon Hamm, Stephen Colbert and Steve McQueen, aka the King of Cool, whose personal Brooks Brothers charge card is pictured above.
Brooks Brothers clothing has also been featured in countless movies and TV shows, with some of the more recent including Gossip Girl, Mad Men, The Royal Tenenbaums and Baz Luhrmann's super-stylish adaptation of The Great Gatsby, for which Brooks created an entire collection and new silhouette.
Chapters in the book include The Corner Store, The Disrupter, Being Presidential, The Jazz Age, Sporting Life, Ivy League, Borrowing from the Boys, Mid-Century Modern, That's Entertainment, and Indelible Style, with text comprised of interviews, archival extracts and personal anecdotes from fashion insiders, writers, celebrities and Brooks Brothers devotees.
Whether you're one of the latter yourself, a student of American fashion, or just someone who appreciates classic style and the joys of being well-dressed, this is one book you're going to want to acquire for your personal library as well as your gift list.