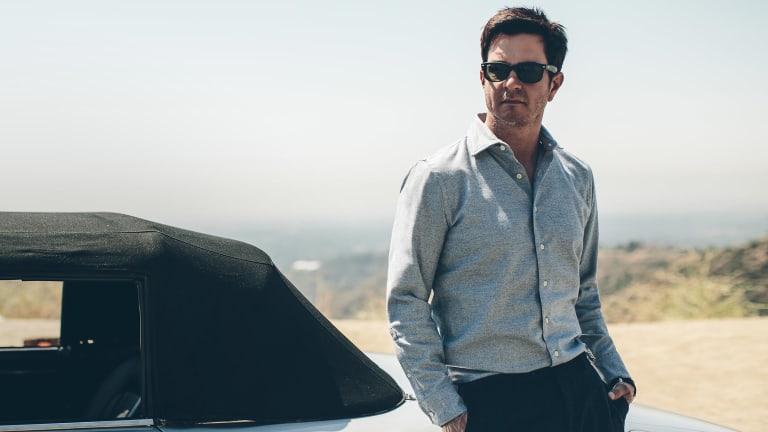 This Stylish Wool Suit Is an Unbelievable Steal at $365
Quality tailoring.
Traditionally, we've been led to believe that good suits are necessarily expensive, even when a flashy designer label disguises a cheaply made garment that's only flattering if you're a circus clown. So imagine our delight to see one of Taylor Stitch's very first offerings for fall is a dashing wool suit with a pre-order price of $365. No, we didn't believe it at first either.
As we've noted before, SF-based Taylor Stitch has turned the traditional men's apparel business upside down with beautifully made, crowdfunded goods designed to last a lifetime and get better with age. And they're eminently affordable to boot. The way it works is you pre-order pieces which are delivered a few months later once funding goals have been met. The company isn't stuck with a bunch of unsold goods and you don't need a second mortgage to look like Steve McQueen.
Which brings us to the Telegraph Collection, Taylor Stitch's line of perfectly put together, incredibly reasonably priced suiting separates. For fall, they've run up a natty number in navy wool donegal, a tweedy flecked fabric with a touch of silk and stretch for an ideal fit and a soft "hand" with a bit of give.
The 10.5-oz. blend delivers the character and texture of a vintage garment, but this is a thoroughly modern creation made with time-honored methods. The fabric is first milled in Italy and then tailored by hand in Portugal by a fourth-generation family business. The pieces are deconstructed and unlined for comfort and ease of movement yet as hard-wearing as you'd expect from something bearing the TS label.
Pre-sale pricing is a mere $228 for the jacket and $138 for the pants. To show them off to full advantage the Taylor Stitch crew took a trio of vintage Porsche 911s and a classic Alfa Romeo into the hills outside L.A. for a photo shoot. You already knew they had great taste, but this just proves the point. Like the 911, their clothes are all about design, durability, and doing it right the first time. You really can't afford not to buy a suit from them.