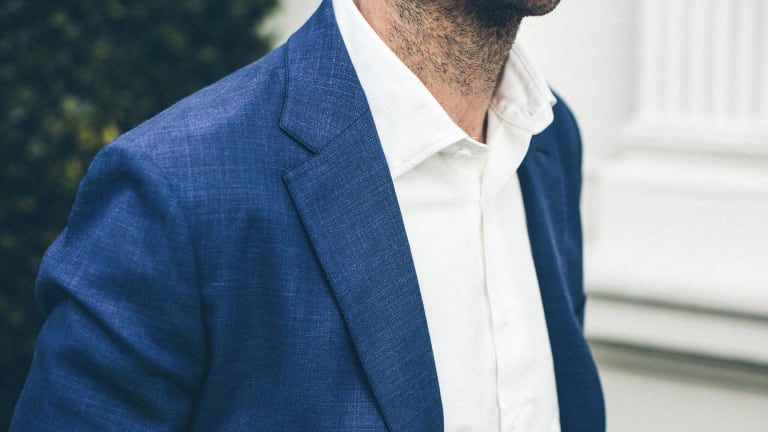 How to Get a Beautifully Tailored Suit for Under $400
San Francisco style.
The geniuses at Taylor Stitch in San Francisco have mastered the art of making simple, perfectly designed, beautifully crafted and fitted, timeless classics at affordable prices. The fact that you don't have to sacrifice anything by way of style or quality in order to save money makes it pretty much a unique proposition. And many of their pieces are made on a crowdfunding model, meaning you can save even more by getting in on the ground floor.
Their latest innovation in helping men dress better without breaking the bank: the Telegraph Collection of suiting, allowing you to look well tailored but not overdressed. That's because the tailoring in question is very soft, making for an extremely comfortable attire that fits your form without puffing it up with a bunch of padding and other junk.
They're offering two different suits (sold as separates) and one jacket, priced at $248 per jacket and $138 for the pants, which combined makes $386 for a suit – a nearly impossible find for garments of this quality. Because believe it or not, it's all tailored by hand, and not in some pseudo-sweatshop either. Taylor Stitch's suiting pieces are cut and sewn in Portugal by a fourth-generation family business that has been clothing elegant gentlemen for many years.
It's a serious upgrade in the looks department over the usual off-the-peg stuff without requiring you to dip into your savings just to look half decent. The suiting pieces are made from the ideal mix of wool and linen with just a bit of stretch for a perfect fit.
It's a lightweight custom fabric that you won't find at the likes of the strip mall stores, and along with the half lining, it has the advantage of keeping you cool in the warmer months while always looking presentable.
As always, Taylor Stitch sticks to classic but not boring colors, and the Telegraph suit is offered in either Cobalt blue or Charcoal gray. The fabric has some texture to it and looks hand woven, as it should. By the time you finish reading this we hope you've made some space on the rack....