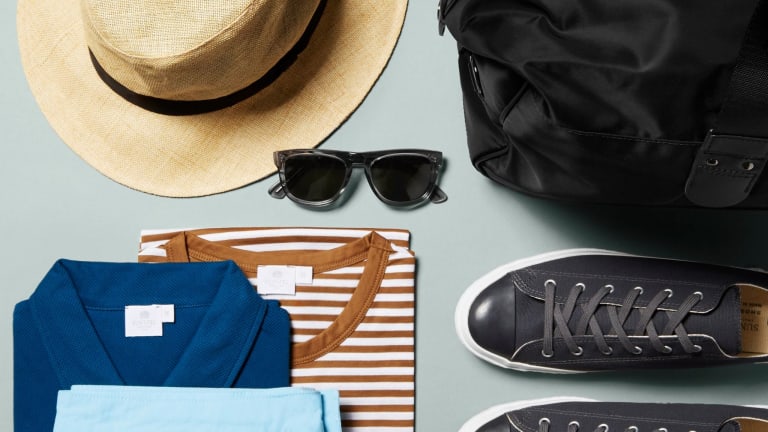 10 Summer-Ready Luxury Essentials To Add To Your Travel Wardrobe
Big escape coming up? Get ready.
When it comes to quality and cool basics, almost nobody on the planet can compete with British outfitters Sunspel. Daniel Craig's James Bond constantly wore this stuff throughout his 007 era and celebs ranging from George Clooney to David Beckham has been snapped by paparazzi in Sunspel garb. If it's good enough for those three guys, it's good enough for anyone.
Here are our picks for the best summer-ready luxury essentials from the brand (and friends of the brand) that any man can pull off with ease. Your travel plans just got a whole lot more stylish.....
Sunspel recreated the iconic swim shorts worn by Sean Connery in Thunderball for the coolest look. Does it get any better?
This laid-back slip on from Rivieras features ventilation and supreme comfort for a solid alternative to flip-flops.
Supremely soft and lightweight, this breathable and comfortable tee in mesh is a bit more elegant than your standard cotton options. The contrast piping around the neck of the tee adds a bit of a cool factor, too.
A nice alternative to the standard sweatshirt, this cotton zip-up bomber jacket is comfortable and lightweight for an easy going layering jacket when the weather cools down at night.
These sporty glasses in a clear acetate frame make for a contemporary look that's different and exciting. On top of going with absoltuely everything, they'll make you stand out from the sea of guys in brown and black specs.
Crafted from soft yet durable leather, this wallet keeps your cash and cards locked and secured when on the move around the world.
A modern take on the classic athletic sweatshirt, this is something you'll reach for day in and day out.
This is the perfect pack to take with you on day trips and beach days. Showerproof and dustproof, the corners and edges are reinforced with contrast leather detailing and gunmetal hardware for extra sharpness.
Garment-dyed for a soft, broken-in feel, these classic chino shorts are something you can wear in practically any situation.
This is the exact polo worn by Daniel Craig in the last act of Casino Royale. Need to know anything else?