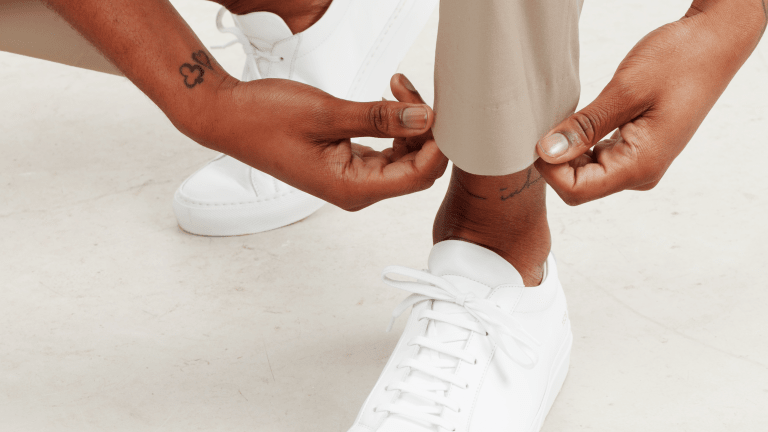 Sleekness, Sophistication & Sweatpant-Level Comfort: This Trouser Has It All
Innovative British clothing brand L'Estrange London believes men's apparel should be beautifully designed, effortlessly elegant, and incredibly versatile. Their aim is to have you feeling neither overdressed nor underdressed, but always exactly right. To do it without constantly changing your clothes requires perfection of form rarely seen outside of high-end designer pieces carrying equally lofty price tags.
L'Estrange's 24 Trousers are the exception to the rule. If 007's wardrobe contained a single pair of pants, these would be the ones. Being able to go from redeye to meeting to chic dinner without changing en route was the challenge, and the 24's are up to the job.
There are two sides to these eminently wearable pants: comfort and style. They're crafted of luxurious soft "comfort stretch" cotton, custom developed and milled in Italy. And the waistband has a bit of stretch as well, with a cord fastening with luxurious brass ends which strike the right note of casual elegance and offers flexibility over a full day of travel and activities. You can also, with ease, tuck and roll them on the inside to shorten them for a "summer crop."
The fit is perfectly engineered as well; slim but not skinny, while the weight is suited to multiple climates and seasons. And they come in a range of blues, grey, khakis and black so you can always be assured of looking your best.
"We make clothing that adds value, not clutter," as L'Estrange puts it. "We research categories, evaluate their strengths and weaknesses, and filter them through our values to create subtly innovative and elevated product."
So do yourself, and your wardrobe, a favor, and pick up at least one pair of 24 Trousers. You'll never look back – or look at pants the same way again.