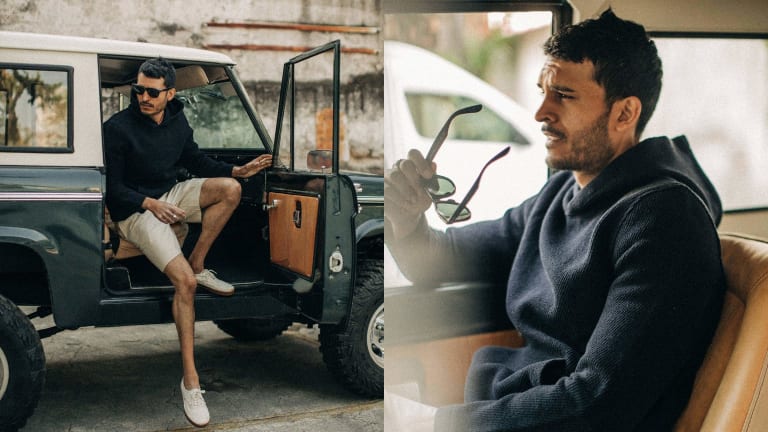 Meet the Wool and Organic Cotton Hoodie Crushing Casual Elegance
"Few garments can compete with the classic hoodie when it comes to comfort, but that peerless coziness often comes at the expense of sophistication." So note the S.F.-based apparel artisans at Taylor Stitch, who have forgotten more about iconic menswear than most of us will ever know.
Rather than simply lamenting the hoodie situation, however, they have of course come up with the perfect sartorial solution, a way to deliver style and supreme comfort in one ideal garment.
Feast your eyes on their new Nomad Hoodie, and never be forced to compromise again. As with most of their creations, the T.S. crew developed an all-new, custom fabric for the piece: a twill blend of insulating wool and soft organic cotton, with a touch of sturdy nylon to round things out, which looks a million times better than fleece or sweatshirt material.
True to its name, the Nomad, which comes in both Natural and Navy, "moves easily between casual and formal settings." It keeps you warm and cozy, while the elevated design keeps things from looking sloppy.
The custom twill blend has a "luxe, substantial hand feel that offers a ton of warmth without relying on cumbersome bulk." And the Nomad's lines are sleeker than the traditional hoodie, with details like hemmed sleeves rather than casual ribbing contributing to a more refined silhouette.
In other words: win-win.