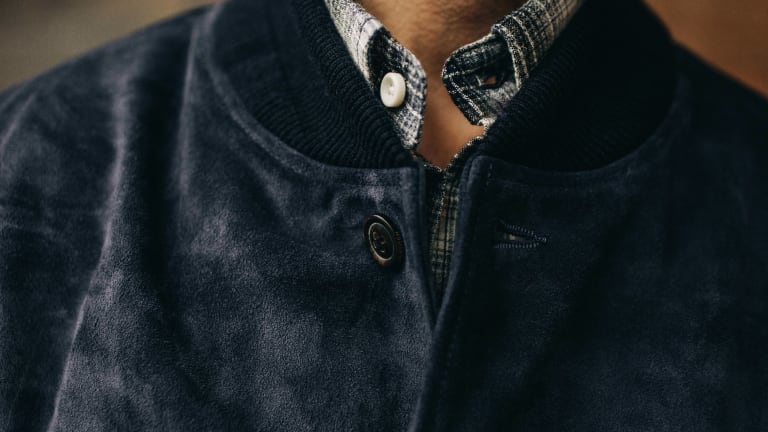 The Suede Aviator Jacket from Taylor Stitch Is Your New Wingman
Sartorially speaking, the bomber jacket may be one of the best gifts the military-industrial complex has ever bestowed upon us citizens. The Aviator Jacket from Taylor Stitch is probably not your first jacket in this category, but it could be your last. And we're guessing your first wasn't cut from rich, buttery, 3-oz. Midnight Blue calf suede.
It's important to note the refinement and delicacy that can come from suede are not available here. This is a durable jacket made to be worn, not babied or kept in the closet waiting for special occasions. And multiple wears will be rewarded, as the tight-grained suede develops a character that's specific to its pilot.
This jacket exudes a sort of simple confidence. Noisy details and features are foregone in favor of a few timeless components. Heavyweight ribbing breaks up the suede at the neck, waist, and cuffs. Two patch pockets with a button-through scalloped flap are built for dual entry. Open the flap at the top of each pocket to store your flight plans or slide cold hands in from the sides during chilly layovers. An interior welt pocket sits along the chest for additional storage. Further inside, cotton twill lining sits against the body. An acetate lining inside the sleeves makes sliding the Aviator Jacket on and off a breeze. Dark horn buttons are sewn down the front of the jacket leading to twin enamel snap buttons at the waistband.
The Aviator Jacket is the stuff of rugged sophistication dreams—not a contradiction, but rather, "luxury looks and a blue-collar work ethic," as Taylor Stitch explains. Grab yours before they take off here.