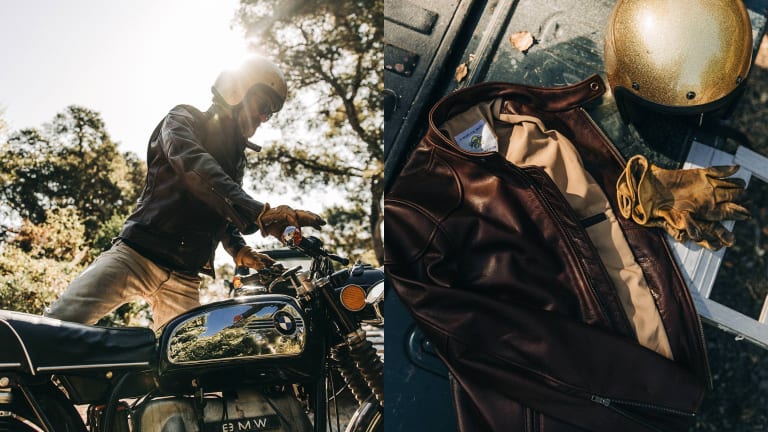 The Best Leather Moto Jackets to Kick Your Style Into High Gear
We've previously waxed poetic about Taylor Stitch's collaborations with Golden Bear, one of California's most iconic clothing labels, dating back to 1922. Now the two S.F.-based apparel artisans have joined forces again on a fresh take on a menswear icon, the leather motorcycle jacket.
This isn't the Marlon Brando-style one with all the flaps, snaps, and zips, but rather its more refined sibling, the band-collar model. Golden Bear's luxe leathers are second to none, made by hand in San Francisco for a lifetime of wear and designed to improve with age.
The Band Collar Moto Jacket is no exception. Golden Bear "has been in the game for nearly a century, and their expertise is evident in every single stitch," as Taylor Stitch notes. Cut from 3.5-oz full-grain steerhide, fully lined and "packed with road-ready features" like a two-way YKK zipper and articulated shoulders, this is a heavyweight heirloom-quality piece that'll look great on or off a bike for decades to come.
The signature band collar includes a hidden snap tab, and the gorgeous leather is tough but made to soften and acquire patina with each wear, "developing more than enough character to inspire the envy of any would-be Brandos, Fondas, or Deans out there," as Taylor Stitch notes. Try one on and "you'll swear you can feel the wind rushing past, the unyielding rumble of an engine, and the thrill of an open, endless road stretching out before you."
It's available in both classic black and an incredibly beautiful shade of deep espresso brown which we think is the smart move to make. Pre-order now and you'll save over $200, which is an even smarter one.