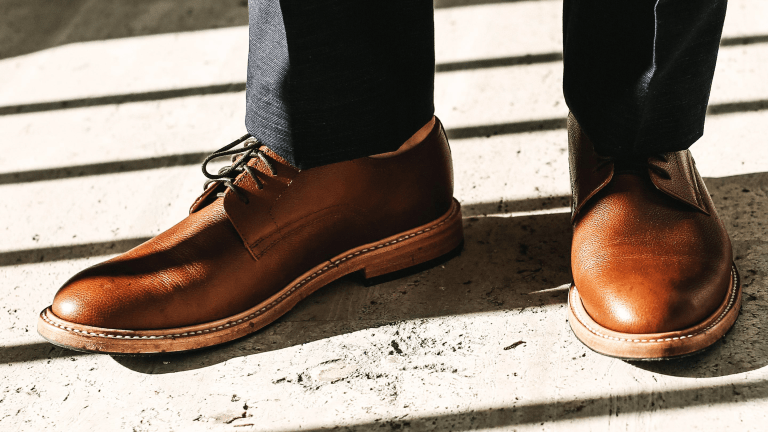 These Handmade Leather Oxfords and Brogues Will Have You Looking Good for a Lifetime
It's often said that you can tell if a man is truly well dressed by looking at his feet; if he's taken the care to wear shoes that are at least as handsome and well made as his best suit, he's worthy of that corner table, corner office, or more likely both.
How to pull it off without spending a month's wages on custom footwear? Look no further than the latest offering from Taylor Stitch, in the form of handmade leather oxfords and brogues built to look good for a lifetime.
Under the careful guidance of master craftsmen in León, México, widely known as the shoemaking capital of the world, the S.F.-based apparel artisans developed their new footwear collection with a "no-compromises approach and an emphasis on durability and comfort." Therefore the kicks are resoleable, feature classic Goodyear welt construction, a cork insole, are fully lined with natural leather and have round waxed cotton laces. There's no break-in period as they're designed fit to perfection from day one.
There are three styles to choose from: oxfords in a beautiful, abrasion-resistant pebble grain finish in a rich espresso color and a smooth, classic whiskey colored version; and espresso colored brogues in full-grain leather with perforated detailing for some extra spring in your step.
Paired with anything from jeans to a pinstripe suit they offer the ultimate in sartorial comfort and confidence, and if you notice people looking down at your feet more often rest assured they will like what they see.