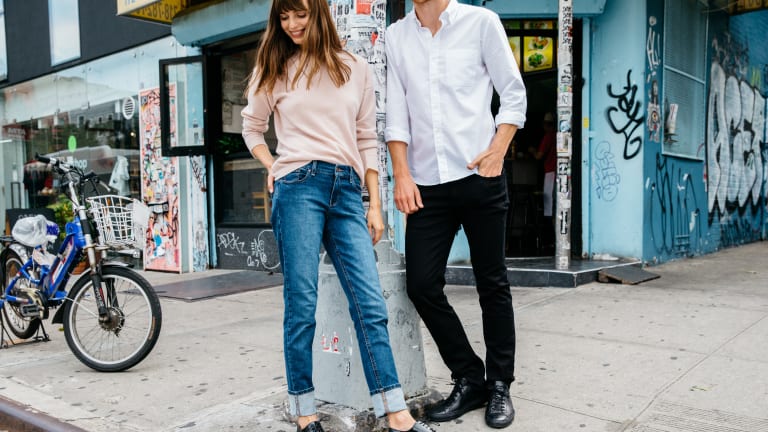 Here's How Mott & Bow Elevates 'Basic' Denim to a Sartorial Science
When did "designers" in all their supposed wisdom decide that men are no longer capable of wearing in their own jeans? Simply finding a decent pair that hasn't been distressed, "whiskered" or abraded nearly to death often seems like a Herculean task. And when you do, it's pretty much guaranteed that the fit will be dad-like, ridiculously tight or otherwise sartorially unacceptable.
Which is why Mott & Bow is such a great find. Founder Alejandro Chahin, the young scion of a denim manufacturing family in Honduras, started the company in order to make premium grade jeans at a reasonable price without all the designer markups and other claptrap.
He did it using the finest denim fabrics from the best mills in the world, applying a manually intensive process to achieve the ideal wash in various shades and cutting them for the perfect fit whether your aesthetic is more slim, straight or skinny.
And to eliminate the guesswork and ensure you walk away happy when you buy your first pair, Mott & Bow lets you choose a second size for free; you keep the one you like best and send the second pair back, also for free.
The process to achieve the perfect wash is labor intensive to be sure – many are resin sprayed, oven cured, hand scraped, washed, dried, re-sprayed, re-washed and so on – using beautiful fabrics like a cobalt blue 12.2 oz. denim from Orta Anadolu in Turkey.
However, Chahin controls the entire process in-house and being vertically integrated not only ensures the best quality but eliminates waste and the cost-padding typical of manufacturing and wholesale middlemen. Case in point: prices start under $100.
So let everyone else walk around in their overpriced, artisanally-shredded, sweatshop-fresh, designer nonsense. We're Mott & Bow men.