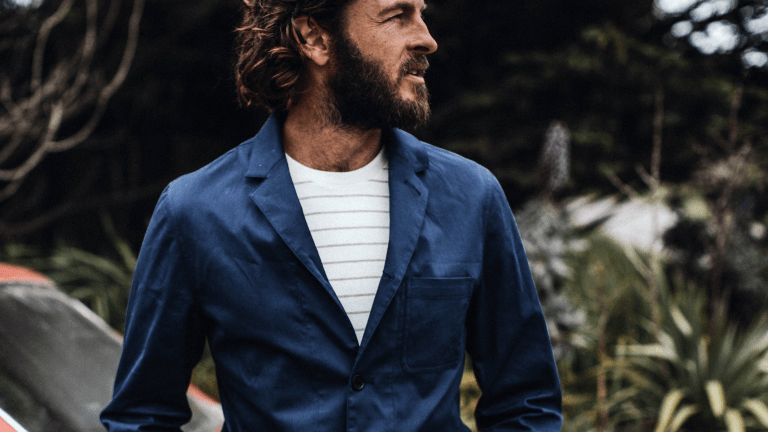 This Deconstructed Military-Inspired Blazer Is the Way to Look Great in Warmer Weather
Remaining imperturbably well-dressed when temperatures rise is one of man's great challenges in life. Ditto doing so while traveling given the indignities and discomforts one must suffer along the way. So a jacket that can help you accomplish both is well worth clearing a hanger for.
We speak of Taylor Stitch's latest achievement, the Gibson Jacket in light summer blue. Drawing inspiration from vintage military jackets, the three-button Gibson features a removable throat latch which can protect you from sudden blasts of air conditioning and adds a touch of visual interest overall.
The classic softly-tailored blazer on vacation is unlined to keep you cool while the textured cotton has a touch of stretch for ease of movement under any circumstances. The SF-based apparel artisans also equipped it with working cuff buttons and internal zippered pockets for your passport, phone, and wallet, as well as the ability to maintain shape while being packed and unpacked.
So "whether you find yourself having dinner with foreign dignitaries, bar hopping with hostel buddies, or trying to impress a museum curator, your ability to succeed is contingent on two things," Taylor Stitch notes, "your suavity and your outfit." Both taken care of with panache when you add this must-have to your wardrobe.