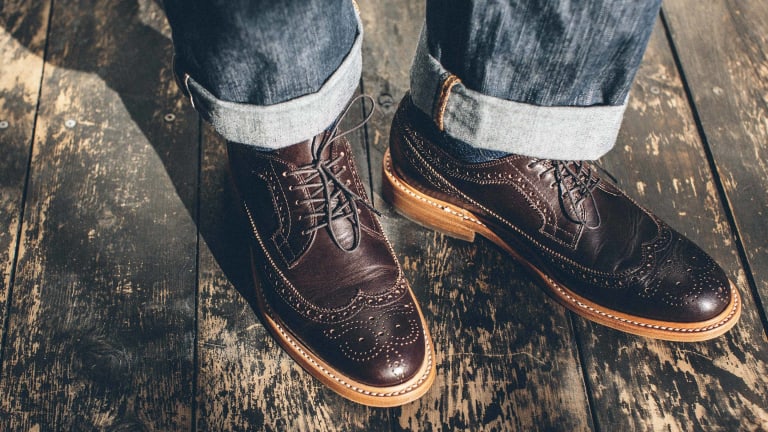 Taylor Stitch's New Leather Brogues Will Have You Well-Dressed from Head to Foot
Proving that really high-quality clothing doesn't have to cost a king's ransom, the S.F.-based style gurus at Taylor Stitch have gone to great lengths to improve and perfect nearly every item of apparel a man could ever need.
Actually, never mind the "nearly" – with their newest product they've crossed the last sartorial frontier: footwear. Their new Brogues are the quintessential men's lace-up, perfectly suited to any metropolis but firmly rooted in outdoor pursuits.
Originally, the now decorative holes were stamped in the leather to allow hunting shoes to drain and breathe while crossing rugged terrain, and that essential functionality carries over to T.S.'s version.
They're made by hand in León, México, the shoemaking capital of the world, from 3-oz. full grain leather in a shade dubbed "espresso," with a soft natural sheepskin lining. And the rebuildable Goodyear welt is designed to make them last longer than anything you're accustomed to put on your feet.
Available for pre-order now at a reduced price, so don't walk, run to add these to your repertoire.