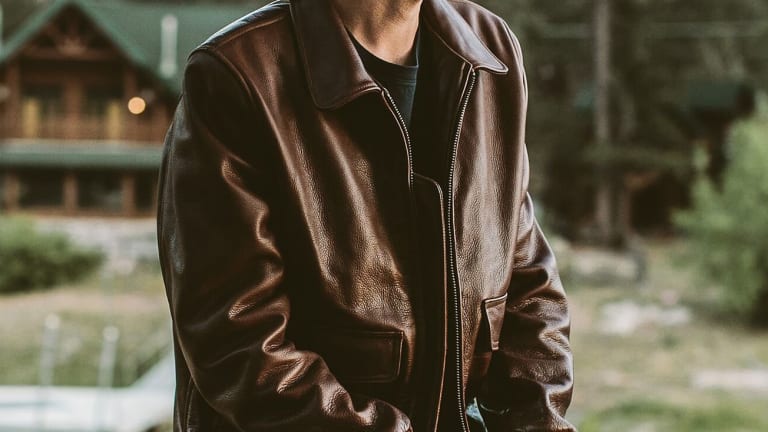 This Leather Jacket Combines Vintage Looks with Modern Details and Serious Style Chops
'Fast' fashion.
We've all eyed cool leather jackets at high-end vintage shops, wondering as much at their astronomical prices as the musty smells. Actually wearing a dead man's threads has never held all that much appeal to us, never mind that the fit and sizing is usually way off. Yet so few modern brands manage to produce anything that has the indefinable aura of cool and permanence that vintage pieces give off. But trust the lads at Taylor Stitch to nail it.
The new Seca jacket from the S.F.-based masters of classic style takes inspiration from both the iconic A-2 jackets worn by WWII fighter pilots and Northern California's famed Laguna Seca raceway, where cars and motorcycles have been raced and ridden to glory since the 1950s. It's typical of Taylor Stitch's innate ability to make several super-cool references in a single garment. At the intersection of the bomber jacket and the motorcycle jacket you'll find this luscious bit of leather.
Constructed from buttery soft, hand-stained, full-grain steer hide in a modern silhouette, this is the sort of jacket that might appear in vintage stores 50 years from now – except that your heirs will never part with it. As the T.S. crew notes, the Seca is made for a driving a vintage Porsche 911 – there they go with the references again – or anything cool, classic, convertible or just damn fast.
Hence the brushed wool lining, double-ribbing, and fishhook throat latch on the collar for top-down motoring this fall when temps start to drop and you can wear all your favorite clothes again. Taylor Stitch called in some expert help on this as well, collaborating with Golden Bear, the essential California sportswear brand founded in 1922, to get the fit just right – not too boxy, not too snug.
The pre-sale price on this beauty – crowdfunded per T.S.'s mission to make affordable modern icons – is only $875, with deliveries slated for October, just when you'll need it. Made by hand in San Francisco, of course, with custom antiqued brass hardware and all the subtle details that mark it down as a superior piece of craftsmanship – as you'd expect.