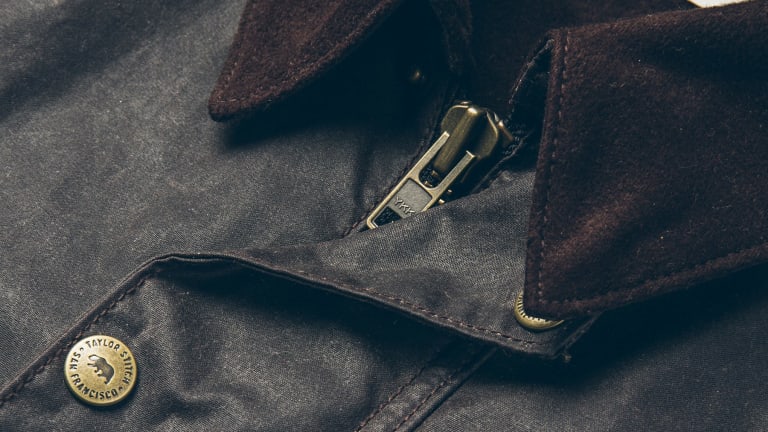 This Beeswaxed Canvas Jacket Can Handle Anything Autumn Throws Your Way
Workhorse.
By now we don't need to tell you that Taylor Stitch has completely changed the menswear game. But we will anyway. The SF-based juggernaut has catapulted to the forefront of the style ranks thanks to beautifully made, perfectly fitted, incredibly durable and sensibly priced pieces that have become instant icons.
A key component is that they don't just make what some bozo of a "buyer" thinks you should wear; they create and improve upon items that style-conscious guys crave without wavering into the dubious territory of "fashion," and they keep prices down with an innovative crowdfunding model.
So on to our latest obsession: the Rover Jacket in chocolate beeswaxed cotton. As the T.S. crew puts it, this is an indispensable foul weather jacket, but that's just the beginning. While such pieces aren't generally known for being comfortable, Taylor Stitch has once again upped the ante by lining it with plush cotton moleskin, creating an "inviting" interior.
Both the bespoke beeswaxed cotton and the 100% cotton moleskin were sourced from mills in the UK, where they know a thing or two about lousy weather. If you're not familiar with moleskin, it has a feel like chamois and is known for its softness, durability, wind repellency and warmth.
It also has a moleskin lined stand collar and antiqued brass hardware. And like all of Taylor Stitch's premium goods, it's made by hand in California. The pre-order price is $248, which wouldn't get you a handkerchief from a fancy designer label but lands you a legacy piece you'll wear for many years.