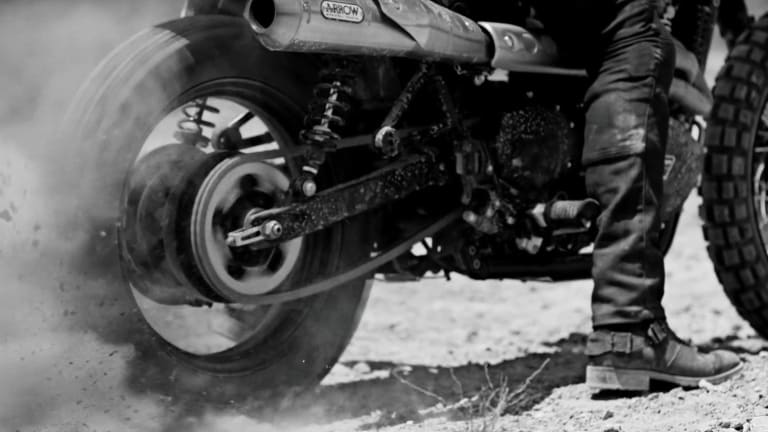 This Belstaff Collection is a Breezy Tribute to Steve McQueen
'On Any Sunday' inspired.
The 1971 motorcycle racing documentary On Any Sunday starring Steve McQueen is one of his lesser-known films, but the Oscar-nominated flick's influence is still being felt today.
The movie, which features many iconic scenes of McQueen astride his Husqvarna in the California desert, just served as the inspiration for Belstaff's Spring/Summer 2017 collection.
Frederik Dyhr, Belstaff's VP of Men's Design, reinterpreted several of the jackets worn by motocross riders in the film for today's road warriors.
At the brand's fashion presentation in London the other day the clothes were shown on models posing around a vintage pick-up truck and motor bike in a scene meant to evoke the movie's set and McQueen's own machines.
And it wasn't just for show. Twelve-time Trial World Champion Dougie Lampkin MBE, wearing Belstaff, performed a stunt routine between the building where the presentation took place and neighboring Westminster Abbey.
Another famed British biker, Sammy Miller MBE, eleven time British Trial Champion was also in attendance, wearing his vintage 1962 Trialmaster, Belstaff's original four-pocket wax-cotton jacket launched in 1948 and still a bestseller today, Pursuitist reports.
The vibe of the collection is definitely '70s-infused, with a sun-bleached palette and several references to archival Belstaff pieces from the same era. Even if you've never ridden a motorcycle, these pieces have serious pull. Our advice is to stock up now....