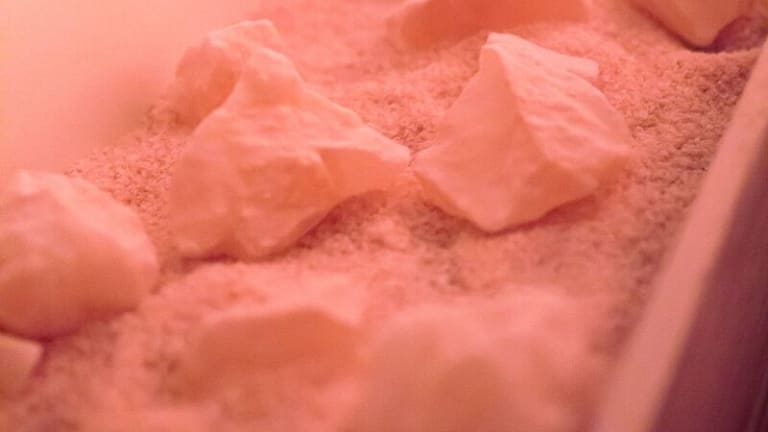 Salt Caves Are Like Steam Rooms On Steroids--Here's Why You Should Give It A Try
Feel great.
Salt therapy (also known as halotherapy) emulates the conditions inside a natural salt cave to make you feel relaxed and fantastic. They infuse the air with small particles of highest quality grade salt, line the space with glowing Himalayan crystal salts, and make you feel like a royalty, not like you're sharing a wet oven with a bunch of sweaty and naked dudes.
We chatted with Joy Matti, the Spa Operations Manager at the newly-opened LINQ Spa, one of the only salt cave experiences available in Las Vegas, who dished on all the reasons why you should ditch the steam and replace it with salt.
Salt is anti-microbial and anti-inflammatory to naturally fight infection or viruses, so it assists your body with strengthening your immune system.
Relieves respiratory conditions, including those pesky seasonal allergies.
Alleviates many skin aliments like psoriasis or eczema.
The glowing crystal salt room at temperature allows you to take time and relax or meditate. Many also feature zero gravity loungers to take pressure off of joints and ease muscle tension during treatment.
Supports respiratory health like nobody's business.
Helps with sinus health.
Dry salt is super-absorbent, antibacterial and anti-inflammatory, it acts as a sort of toothbrush for the lungs, loosening mucus and cleansing away bacteria that has built up.
Improves skin's appearance by boosting its micro-circulation, eliminating bacteria and supporting new cell production.
All in all, salt caves are the kind of thing every guy should try and experience. The deep relaxation and health benefits are the right kind of addicting.