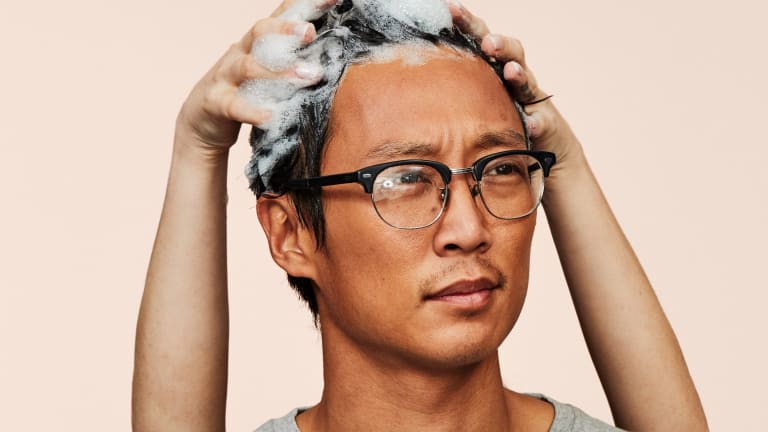 A Cool New Brand Is Here to Save Your Hairline (and Sex Life)
"Thanks to science, baldness is now optional. ED? Optional. If it ain't broke don't fix it, sure. But let's work on not breaking it in the first place. Prevention. More effective than denial."
That's what the homepage of Hims reads, a new Harry's-backed startup from serial entrepreneur Andrew Dudum.
Thanks to new telehealth laws, about 80% of the United States can now get the OK for certain prescription drugs over the phone. This opened the door for Hims, which can now deliver Finasteride to consumers on a monthly basis at an unbeatable price. The drug, which should be taken daily, treats male pattern baldness and leads to thicker hair with regular use. Famously, guys like Bradley Cooper and Matthew McConaughey thanked the pill for their movie star locks.
On top of the prescription drug, Hims also offers a suite of other products that help with hair loss, ranging from gummy vitamins to a special shampoo and oil that help you keep your hair with relative ease.
Soon – likely on December 11th when Pfizer's Viagra patent expires – Hims will also be getting into the ED game, with monthly deliveries of a copycat generic that don't require the awkward doctor and pharmacy visits. They'll also be entering the skin world within the next few months, with prescription and non-prescription tools to fight acne.
With the aforementioned Harry's backing this financially, you can see its fingerprints all over the branding and design. Everything is lightweight and minimal, with beautiful packaging and a clean, easy checkout experience. I'm bullish on the company and think it will find major success.