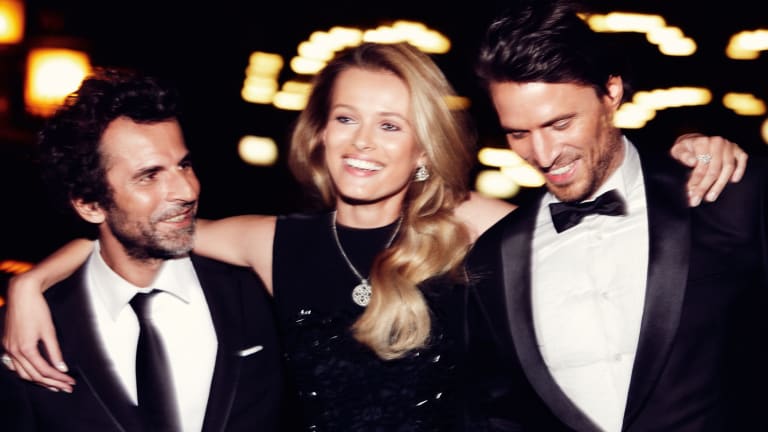 Everything You Need To Know About Decoding Dress Codes
Don't be the schmuck who doesn't get the memo.
Nothing is better than arriving home to find a hand addressed envelope in the mail, especially when it contains a party invitation inside. A quick RSVP YES, schedule an iPhone Calendar reminder, and you're all set… except one thing still remains… what to wear? Here's how to figure it out.
White Tie
White tie doesn't mean a white tuxedo. Instead, it truly refers to the tie. The tailcoat, trousers, shoes, and socks remain black, but the tie and vest are white. For women, long dresses are required. Take advantage, there are not nearly enough opportunities to wear a gown. If an event is white tie, the invitations typically will note the dress code, as it is rare.
Black Tie
For men, this means a traditional tuxedo with black tie, vest, pants, and jacket and a white button down shirt. When black tie optional is listed, feel free to skip the tuxedo for a formal black suit but stick to a simple dark tie to keep the streamlined feel of a tuxedo.
Women have a variety of options from a floor length frock to a cocktail dress but the accessories should be kept formal. A clutch, sparkly earrings and bracelet will help round out a simple dress. Heels are typically worn. If wearing flats, be sure they are extremely formal and in excellent shape. Especially when wearing a cocktail length dress, rely on luxurious materials like silk to make your attire feel formal.
Like a white tie event, black tie is typically notated. An exception is formal weddings, as weddings do not typically note attire on the invitation though they frequently do mention it on wedding websites. A wedding that starts at 6pm or later is safe to default to black tie.
Cocktail Attire
Cocktail attire can also be referred to as semi-formal. It often allows more room for creative expression such as dressy separates for women and more playful tie choices for men. This is especially true for non-work events where cocktail attire can also imply business formal. If the invitation specifies "festive" semi-formal then add on more fun or seasonal accessories.
Business Formal
Often business attire is set by your company or field, but there are times you may find business formal on an event description and be unsure of exactly what to wear. Suits are the way to go here, always for men and a safe bet for ladies. Accessories are more conservative.
Business Casual
This is where the suits get left behind. For men, slacks and a blazer with either a button down or dress shirt. Ties are optional. Women can opt for slacks or skirt and a blouse or a more casual dress. Accessories should still be kept to the more modest side, such as lower heels and simple jewelry. Again, judge based on your industry. Business casual for lawyers is rather different than for fashion bloggers where business casual is ripped boyfriend jeans and an oversized sweater paired with 4-inch heels and a statement necklace.
Casual
Anything goes. Casual events are typically the least likely to note on the invitation but any invitation received by phone or e-vite without a mention of dress is a good bet to be casual. If unsure, a quick call or email to the host can clarify without need to worry.