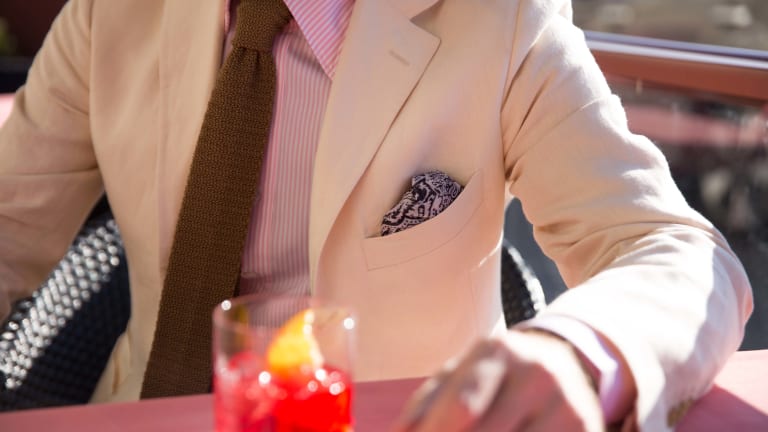 The Ultimate Guide to Modern Manners
This just in: tastemaker and man-about-town David Coggins has followed up his best-selling sartorial manual Men and Style with a new book devoted to the intricacies of etiquette all modern gentlemen must contend with. Men and Manners: Essays, Advice and Considerations, now available for order on Amazon, is exponentially better than the usual guides of this genre thanks to Coggins' wit and superior way with words.
This is the best, most entertaining and edifying book on gent's etiquette we've seen since P.J. O'Rourke's Modern Manners, but though Coggins' work contains plenty of dry humor it's much more practical and is meant to be taken seriously. The fact that he is a man of style writing for other men who care about such matters also makes this well-designed volume especially worth adding to your library.
As Coggins, editor of Drake's magazine Common Thread among other distinctions, puts it, this book is not about knowing which fork to use or how to tie a double windsor knot. It's not pedantic or preachy, but rather aimed at helping you be "confident and gracious regardless of the setting," as knowing the rules, and how to interpret them, "puts you at ease and helps you present the best version of yourself" to the world at large.
He assumes that you were born with some common decency, and are not a complete halfwit, just in need of instruction on some of the fine points and grey areas. And Coggins, though his tastes are more literary in nature, is not afraid to engage with tricky subjects like the etiquette of technology with plenty of panache and proper perspective. Of course, his sartorial advice is also top notch.
In addition to The Guidelines, a set of ideas and rules worth remembering in all situations, the first half of Men and Manners offers the following sections: In Public, including tipping, parties, toasting, driving, plans, greetings, restaurants and bars; In Private, including at home, family rules, miscalculation, received wisdom, and good manners as poetry; and Dressed Up, including dress codes, the sportcoat, black tie, informal, grooming, and, of paramount importance, "no square-toed shoes."
He then goes on to tackle Technology, including writing, texting, punctuation, oversharing, distraction, social media, stationery, and at work; Dating, including going out, first dates, breaking up, dating by the numbers and online romance; Travel, including planes, hotels, visiting, and right-thinking people; and Conflict, including apologies, friction, arguing and peeves. All sections are cleverly illustrated by Christopher DeLorenzo.
"With everything going on in the world, it seems like a particularly good time to assess how to be a better man," Coggins writes. "The world may seem crazy, but that's all the more reason to be the patient, well-dressed fellow on the plane who doesn't throw elbows trying to get to the overhead bin.... Manners are the guidelines of a civilized life."