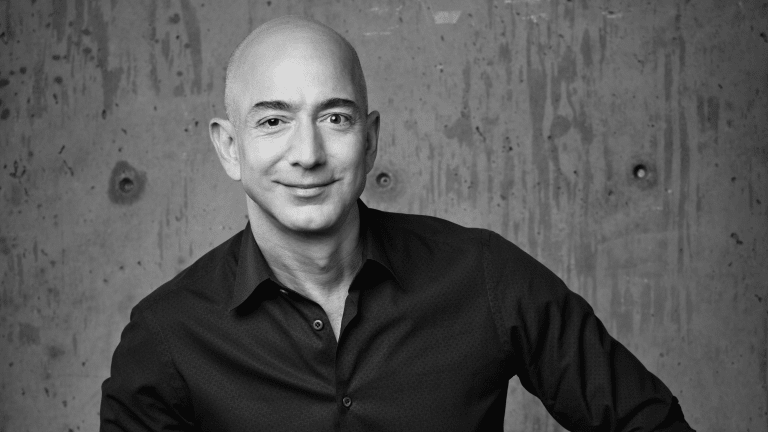 20 Brilliant Business Lessons from Amazon Founder Jeff Bezos
From books to billions.
Jeff Bezos, founder of Amazon and a strikingly (kind of scary) doppelganger to Lex Luthor, was the world's richest man for a cool second, before Amazon's piping hot stock fell a tiny bit, putting him just below Bill Gates.
Whether he's the world's richest or second richest doesn't really matter, what does matter is how he got there. Here are few brilliant business lessons from the man himself worth taking note of:
"If you never want to be criticized, for goodness' sake don't do anything new."
"You can have the best technology, you can have the best business model, but if the storytelling isn't amazing, it won't matter. Nobody will watch."
"If you double the number of experiments you do per year you're going to double your inventiveness."
"Life's too short to hang out with people who aren't resourceful."
"A company shouldn't get addicted to being shiny, because shiny doesn't last."
"If you decide that you're going to do only the things you know are going to work, you're going to leave a lot of opportunity on the table."
"I think frugality drives innovation, just like other constraints do. One of the only ways to get out of a tight box is to invent your way out."
"All businesses need to be young forever. If your customer base ages with you, you're Woolworth's."
"Your margin is my opportunity."
"The one thing that offends me the most is when I walk by a bank and see ads trying to convince people to take out second mortgages on their home so they can go on vacation. That's approaching evil."
"The great thing about fact-based decisions is that they overrule the hierarchy."
"What we need to do is always lean into the future; when the world changes around you and when it changes against you – what used to be a tail wind is now a head wind – you have to lean into that and figure out what to do because complaining isn't a strategy."
"There are two kinds of companies, those that work to try to charge more and those that work to charge less. We will be the second."
"Most decisions should probably be made with somewhere around 70% of the information you wish you had. If you wait for 90%, in most cases, you're probably being slow. Plus, either way, you need to be good at quickly recognizing and correcting bad decisions."
"If you're not stubborn, you'll give up on experiments too soon. And if you're not flexible, you'll pound your head against the wall and you won't see a different solution to a problem you're trying to solve."
"If you're competitor-focused, you have to wait until there is a competitor doing something. Being customer-focused allows you to be more pioneering."
"We've had three big ideas at Amazon that we've stuck with for 18 years, and they're the reason we're successful: Put the customer first. Invent. And be patient."
"I would never say no to something the team wanted to do, but I might say yes to something the team didn't want to do. You want there to be multiple ways to get to 'yes' because you want to encourage risk-taking."
"In the old world, you devoted 30% of your time to building a great service and 70% of your time to shouting about it. In the new world, that inverts."
"Part of company culture is path-dependent — it's the lessons you learn along the way."