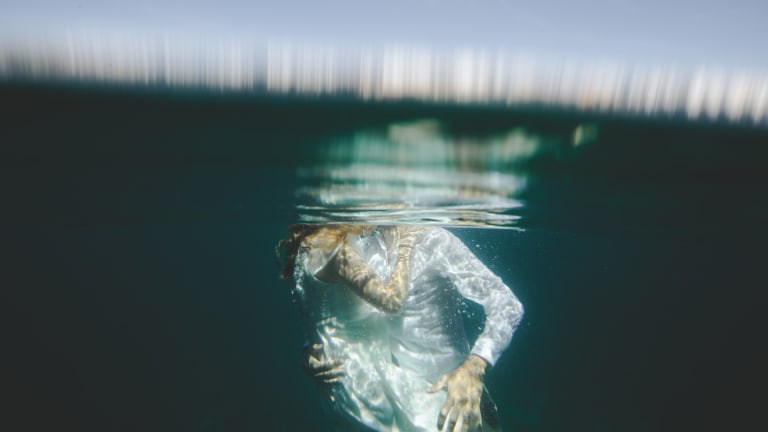 5 Incredible Books That Will Make You a Better Man
Supercharge your self-improvement.
Want to be a better person? Friend? Lover? Wake up each and every morning excited? Reading the following is highly advised.
In this generation-defining self-help guide, a superstar blogger cuts through the crap to show us how to stop trying to be "positive" all the time so that we can truly become better, happier people.
For decades, we've been told that positive thinking is the key to a happy, rich life.

"F**k positivity," Mark Manson says. "Let's be honest, shit is f**ked and we have to live with it." In his wildly popular Internet blog, Manson doesn't sugarcoat or equivocate. He tells it like it is—a dose of raw, refreshing, honest truth that is sorely lacking today. The Subtle Art of Not Giving a F**k is his antidote to the coddling, let's-all-feel-good mindset that has infected modern society and spoiled a generation, rewarding them with gold medals just for showing up.

Manson makes the argument, backed both by academic research and well-timed poop jokes, that improving our lives hinges not on our ability to turn lemons into lemonade, but on learning to stomach lemons better. Human beings are flawed and limited—"not everybody can be extraordinary, there are winners and losers in society, and some of it is not fair or your fault." Manson advises us to get to know our limitations and accept them. Once we embrace our fears, faults, and uncertainties, once we stop running and avoiding and start confronting painful truths, we can begin to find the courage, perseverance, honesty, responsibility, curiosity, and forgiveness we seek.

There are only so many things we can give a f**k about so we need to figure out which ones really matter, Manson makes clear. While money is nice, caring about what you do with your life is better, because true wealth is about experience. A much-needed grab-you-by-the-shoulders-and-look-you-in-the-eye moment of real-talk, filled with entertaining stories and profane, ruthless humor, The Subtle Art of Not Giving a F**k is a refreshing slap for a generation to help them lead contented, grounded lives.
Every day we experience the uncertainty, risks, and emotional exposure that define what it means to be vulnerable or to dare greatly. Based on twelve years of pioneering research, Dr. Brené Brown dispels the cultural myth that vulnerability is weakness and argues that it is, in truth, our most accurate measure of courage.

Brown explains how vulnerability is both the core of difficult emotions like fear, grief, and disappointment, and the birthplace of love, belonging, joy, empathy, innovation, and creativity. She writes: "When we shut ourselves off from vulnerability, we distance ourselves from the experiences that bring purpose and meaning to our lives."

Daring Greatly is not about winning or losing. It's about courage. In a world where "never enough" dominates and feeling afraid has become second nature, vulnerability is subversive. Uncomfortable. It's even a little dangerous at times. And, without question, putting ourselves out there means there's a far greater risk of getting criticized or feeling hurt. But when we step back and examine our lives, we will find that nothing is as uncomfortable, dangerous, and hurtful as standing on the outside of our lives looking in and wondering what it would be like if we had the courage to step into the arena—whether it's a new relationship, an important meeting, the creative process, or a difficult family conversation. Daring Greatly is a practice and a powerful new vision for letting ourselves be seen
When a career-ending injury left elite athlete and professional football player Lewis Howes out of work and living on his sister's couch, he decided he needed to make a change for the better. He started by reaching out to people he admired, searching for mentors, and applying his past coaches' advice from sports to life off the field. Lewis did more than bounce back: He built a multimillion-dollar online business and is now a sought-after business coach, speaker, and podcast host.

In The School of Greatness, Howes shares the essential tips and habits he gathered in interviewing "the greats" on his wildly popular podcast of the same name. In discussion with people like Olympic gold medalist Shawn Johnson and Pencils of Promise CEO Adam Braun, Howes figured out that greatness is unearthed and cultivated from within. The masters of greatness are not successful because they got lucky or are innately more talented, but because they applied specific habits and tools to embrace and overcome adversity in their lives.

A framework for personal development, The School of Greatness gives you the tools, knowledge, and actionable resources you need to reach your potential. Howes anchors each chapter with a specific lesson he culled from his greatness "professors" and his own experiences to teach you how to create a vision, develop hustle, and use dedication, mindfulness, joy, and love to reach goals. His lessons and practical exercises prove that anyone is capable of achieving success and that we can all strive for greatness in our everyday lives.
Is it possible to:

Reach your genetic potential in 6 months?

Sleep 2 hours per day and perform better than on 8 hours?

Lose more fat than a marathoner by bingeing?

Indeed, and much more. This is not just another diet and fitness book.

The 4-Hour Body is the result of an obsessive quest, spanning more than a decade, to hack the human body. It contains the collective wisdom of hundreds of elite athletes, dozens of MDs, and thousands of hours of jaw-dropping personal experimentation.

From Olympic training centers to black-market laboratories, from Silicon Valley to South Africa, Tim Ferriss, the #1 New York Times bestselling author of The 4-Hour Workweek, fixated on one life-changing question:

For all things physical, what are the tiniest changes that produce the biggest results?

Thousands of tests later, this book contains the answers for both men and women. From the gym to the bedroom, it's all here, and it all works.
What is your true purpose in life? What do women really want? What makes a good lover? If you're a man reading this, you've undoubtedly asked yourself these questions—but you may not have had much luck answering them. Until now.

In The Way of the Superior Man, David Deida explores the most important issues in men's lives—from career and family to women and intimacy to love and spirituality and relationships—to offer a practical guidebook for living a masculine life of integrity, authenticity, and freedom. Join this bestselling author and internationally renowned expert on sexual spirituality for straightforward advice, empowering skills, body practices, and more to help you realize a life of fulfillment, immediately and without compromise.

"It is time to evolve beyond the macho jerk ideal, all spine and no heart," writes David Deida. "It is also time to evolve beyond the sensitive and caring wimp ideal, all heart and no spine." The Way of the Superior Man presents the ultimate challenge—and reward—for today's man: to discoverthe 'unity of heart and spine' through the full expression of consciousness and love in the infinite openness of the present moment.
Get to reading.