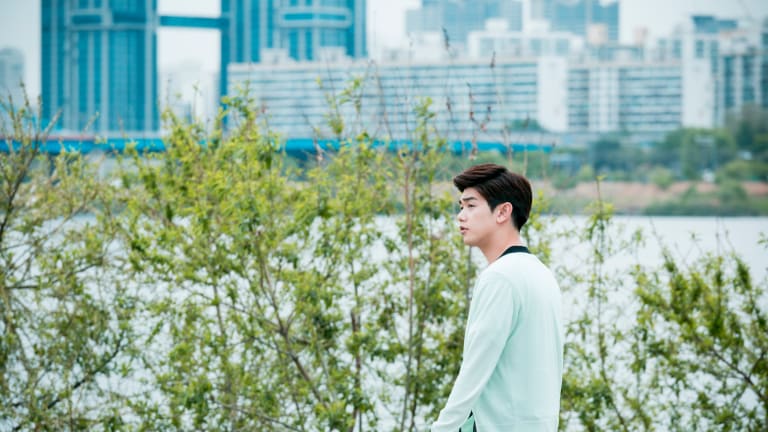 How Asia-Pacific's Coolest Creatives Spend Their Days
Sponsored by Infiniti.
Life is nothing but a series of challenges. While approach is half the battle, the rest is how you get there.
Throughout 2016, Infinity has introduced us to five trendsetters from around the globe: Godfrey Gao, Kevin Poon, Eric Nam, Luke Choice, and Kevin Magnussen. This creative collective boasts the privilege of harnessing the power of Infiniti to cruise through their day-to-day. The race that is life, however, is nothing without the hurdles we face. To showcase their ability to adapt and prevail as well as their sleek Q30, Infinity has challenged Gao, Poon, Nam, Choice and Magnussen to leap some hurdles of their own.
First, we revisit Godfrey Gao, one of Taiwan's most recognizable faces. Actor, model, and overall good guy, Gao is nothing but up to Infiniti's challenge. First on the to-do list: making Taiwanese favorite egg waffles with ice cream. He throws on his bakers hat, hops in his Q30, and hits the road. The results? Delicious. Next up, Gao is tasked with making a half-court shot…while blindfolded. Easy as pie, right? Apparently, it is for Gao, who sinks the shot after a few tries before comparing himself to Steph Curry himself. Step Three for Gao and his Q30 comes with a little man-on-the-street flavor: he has to grab a Polaroid camera and photograph stylish people on the street, before having them rate themselves. Leave it to a model to run into a fellow model, who he photographs along with a handful of other passersby. Not missing a chance to take a quick selfie: he scores himself a humble 75% before heading back to being one of Taiwan's brightest stars in the sleekest of cars.
Kevin Poon is easily one of Hong Kong's most influential fashion designers. With his hands wrapped around the equally stylish Q30, he speeds into whatever challenges Infiniti has for him. With his eye for design, the first challenge of channeling his inner barista and making some latte art should be familiar territory. As it turns out, this wasn't as easy as KP thought. Failure, however, is not an option, and he decides to keep at it until he finally produces a foamy heart shape in the warm mug. Fully caffeinated, he's hit with his next obstacle: upgrading his style with just HKD 500 (about $60 USD) — about enough to buy half a pair of jeans. Following his design instincts, he hits a vintage market and grabs a pin that boasts a K for himself, an awesome lighter, and some vintage sunglasses to throw on while driving to his next destination. Following in the theme of art, Poon's final test is to create his own canvas. With a few cans of spray paint and an unmatchable eye, he creates a stunning work of art, all while inspiring us to never stop creating.
Seol, South Korea is home to music sensation and just awesome personality Eric Nam. He and his Q30 follow their familiar route to their first challenge, which presents itself in Nam's own music studio. Greeting him is a table full of children's music toys — hardly what the superstar is used to working with, but he's certainly up to the challenge of making some music with them. After noodling with his new toys for a few minutes, he's finally able to string together some familiar hits from The Backstreet Boys and Jason Mraz. Most couldn't play either with a fully tuned guitar, let alone a few hollow hunks of plastic. The next challenge isn't as easy for Nam, who finds himself in an apron making mung bean cakes on the Seol boardwalk. He struggles over the fryer while a group of screaming fans recognize him before he finally produces a pretty solid mung cake (if he does say so himself). Stomach full and pedal to the medal, Nam flies like an arrow to his final challenge: archery. Not long after being assured it takes months of practice to come even close to hitting a target properly: he nails one, much to the glee of all watching, and retires on a high note. Stepping outside of his comfort zone, Nam learned a lot about himself and the things he didn't know he could do.
Taking a trip Down Under, visionary graphic designer Luke Choice has his own trio of challenges from Infiniti. Challenge number one? To recreate his own art…in the real world. He takes to it, realizing he doesn't have nearly as much control over the physical world as he does the digital. For someone who's never baked a cake or a neon burger, Choice impressively nails his first challenge, harnessing control of both his designs and his Q30. Up next for Choice is screen printing one of his designs onto a t-shirt. Inspired be Infiniti's Born To Challenge, he creates a design and beautifully imprints it onto a shirt. There's really nothing this artist can't do with ease. Finally, Choice has to sort through a lineup of album covers that represent "his Sydney", and create some original artwork from their inspiration. He pursues a record shop before making some carefully curated options back to the coffee shop and his unstoppable computer. Once again, he fails to disappoint, producing some wonderful works of art after stepping outside of his comfort zone.
Last but far from least is Kevin Magnussen in Singapore. This professional speed racer has chosen Infiniti to zip him to and from the racetrack and was nothing but up for the challenges they had to offer. His first task has him miniaturize his talents as he's asked to drift a remote controlled car on the racetrack. He meticulously constructs a car of his own before hitting the track and needless to say: he nails it. The tiny world is nothing for this big-leaguer, which he proves in his second challenge. If drifting was hard, he's been asked to do it again…in between a narrow bank of miniature tires. He's unstoppable one again, clearly designing his miniature car after the prestige performance of the Q30 parked not far off. Third, final, and most difficult challenge is drifting into a full stop…into a taped off box with his trusty RC car. This one proves to be too much for the racer, who would much rather throw around the weight of a real performance Infiniti.
Gao, Poon, Nam, Choice, and Magnussen all pride themselves on their choice of daily driver. That's their comfort zone. Infiniti decided to challenge them to break out of their comfort zones and learn something about themselves. Each rose to the challenge, whether it was playing with kids toys, manning a boardwalk fryer or building a miniature car before grabbing the wheel of a real piece of machinery: the Infiniti Q30.