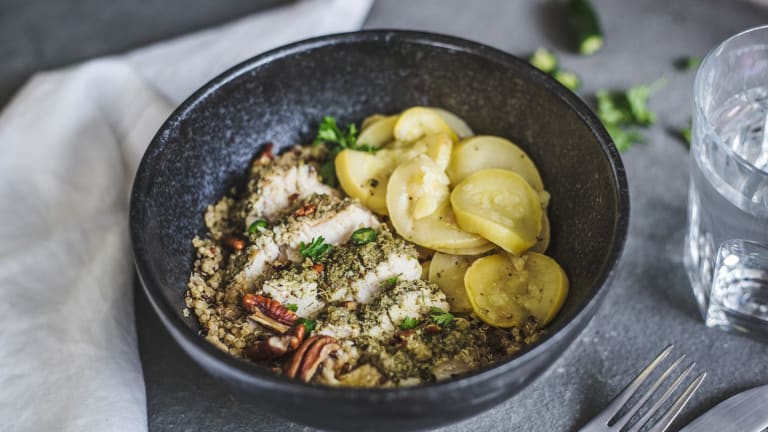 5 Easy Ways To Go From Feeling Like A Slob To Feeling Healthy
Simple tips for simple health.
Here are a few easy-to-implement ways to go from feeling like a slob to feeling (and looking) healthy, happy, and satisfied. For the guy that wants to take his lifestyle up a notch, these tips should come in handy.
1.) Hire A Personal Chef (Without Spending More Than You Would On Groceries)
There are a few problems with eating incredibly healthy. Cooking is time consuming, dishes and cleanup are always a bummer, and unless you're practically Bobby Flay with a stovetop, nothing ever tastes quite as satisfying as a simple carb-filled sandwich. Thankfully, your lifeline is here. It's this new company called Freshly, which delivers meals to your door for around the same amount of cash you'd spend grocery shopping each week. They're delicious, free of the bad stuff -- gluten, artificial sweeteners, added sugars, hormones -- and take about two minutes to heat up. No dishes, no cooking, and no grocery store trips. For the busy bachelor, it's the perfect solution.
2.) Enjoy Guilt Free Sweets
With sweets and deserts, it's easy to fall off the healthy-eating train. They're everywhere, you constantly crave them, and for many people, they're almost impossible to resist. Luckily, you can still enjoy them thanks to the magic that is Quest Bars. With wildly low sugar (in many cases less than 1g) and net carbs around 4g, you can indulge in these delicious desert bars guilt free. Best flavor? Peanut butter chocolate.
3.) Stop Adding Crap To Your Coffee
If you're loading your coffee with cream and sugars, try drinking it black. It may not feel as satisfying or comforting for the first few days, but a week later, you'll never want to go back.
4.) Walk (Not Run)
If you hate running and hate going to the gym, try briskly walking on the treadmill instead. Watch a movie or a Netflix show on your phone, catch up on your favorite podcast, or even read a book. Sure, it's not as beneficial as doing gut busting sprints and conditioning drills, but it's a million times better than sitting on the sofa.
5.) Buy A Kettlebell
When you're a busy man about town, it's not always easy to make a daily trip to the gym. That's why a kettlebell is an amazing solution -- you can practically get a full body workout with this thing. When there's one always nearby, it's easy to get a five minute session in when you wake up or before you jump in the shower at night.