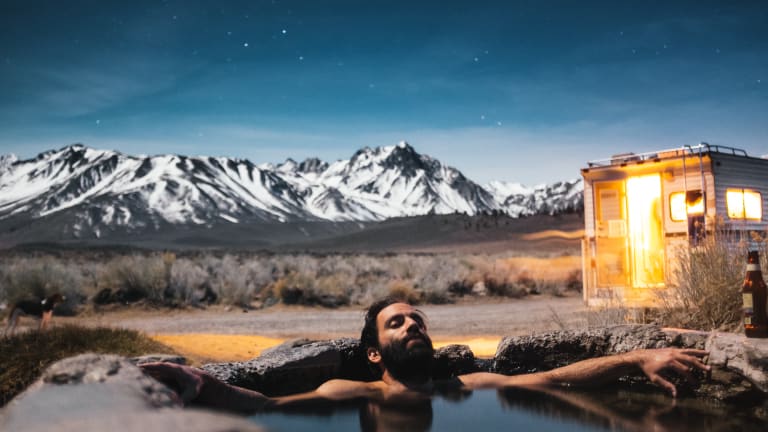 50 Things Every Man Should Do Before They Die
This isn't a bucket list, it's a pre-requisite list. A handful of things all dudes should do before they meet the reaper. Not enough time? You've got years and years. Not enough cash? Start saving. Here they are, hope you enjoy!
1.) Go back and read the novels you read in middle school and high school. You'll finally "get" the magic of reads like To Kill A Mockingbird.
2.) Take an entire summer off for a vacation. Doesn't have to be lavish, but it does have to be an extensive break from the grind. Do this when you're at a really stressful time in your life.
3.) Hold an annual event with a handful of buddies from college or high school. Do it every single year and make it more and more epic as you get older and older.
4.) Learn some info about flowers. Your girl will appreciate the thought and knowledge that goes into picking out the right ones for her.
5.) Learn the rules of an exotic sport. For example, if you're in the USA---figure out what the hell is going on in cricket.
6.) Catch a foul ball at a baseball game. Toss it to a kid a few seats down.
7.) Give credit to something you did. Take the blame for something you didn't.
8.) Get mistaken for someone famous, don't correct them.
9.) Be the first dude to jump in the pool at least once. Even if it's not a pool party.
10.) Build a garden with your significant other. Make dinner with whatever you grow.
11.) Find a pen pal halfway around the world. Hand write letters back and forth for at least a year. Exchange gifts.
12.) Start an annual sports event with your friends and family. Whether it's a football game around Thanksgiving or an indoor soccer game each July doesn't matter, just make sure it's a big deal and something you do each year. Make jerseys, invite a crowd, party afterwards, have fun.
13.) Choose your favorite author, favorite band, and favorite movie. Stick with 'em through thick and thin.
14.) Leave an uncomfortably large tip with a hand-written compliment. Make someones month by doing so.
15.) Train for a marathon and complete one, no matter how long it takes you to do so.
16.) Have a six pack for at least a summer.
17.) Be listed on a patent.
18.) Go to motorcycle school and learn to ride.
19.) Own a motorcycle, even if your significant other hates the idea.
20.) Take a massage class. A more useful life skill than you would imagine.
21.) Ride a camel through the desert.
22.) Develop a signature dish in the kitchen. Become a pro at making it when hosting dinner parties.
23.) Live in a major metropolitan city for at least a year.
24.) Learn some of another language. Even if it's just a few dozen lines of French.
25.) Jump out of a plane with a parachute on your back.
26.) Build an epic treehouse for your kids or grandkids.
27.) Bottle your own wine or brew your own beer. Or both.
28.) Buy the bar a round.
29.) Mentor someone who isn't related to you.
30.) Start a business, even if it's just something small on the side.
31.) Invest in some great luggage---we like Rimowa---and keep it for the rest of your life. It will hold up.
32.) Host an epic (but classy) party every year. Make it an annual thing your friends always look forward to.
33.) Buy a custom tuxedo at an ideal weight. Never grow out of it.
34.) Coach a sport or teach a class for at least a few months.
35.) Know how to throw a tight spiral.
36.) Be able to throw a a decent curveball or knuckleball.
37.) Know how to take a good jumpshot.
38.) Volunteer to help kids who need mentorship in a time of need. You'll have a blast---lots of games, sports, movies, and video games. Comfort Zone Camp, for example, helps kids who suddenly lost both of their parents in something like a car crash or other tragic accident.
39.) See every James Bond movie at least once.
40.) Keep a box of mementos, love notes, and other memories to look back on years down the road.
41.) When a great friend asks to borrow money, gift it to him or her instead.
42.) Talk your way out of a speeding ticket.
43.) Go on a romantic getaway with your significant other at least once a year. It doesn't need to be Paris for two weeks, but it does need to be thoughtful and planned out.
44.) Read at least one book a month. Rotate from fiction to non-fiction.
45.) Win a costume contest.
46.) Have a signature drink you always order.
47.) Spontaneously book a plane ticket the same day it takes off.
48.) Give back to things that have given to you, like schools, clubs, and organizations that helped shape the man you are today.
49.) See your favorite team win it all. In person.
50.) Live happy. Want what you have. Be kind. Be thoughtful. Listen. Care. Love.