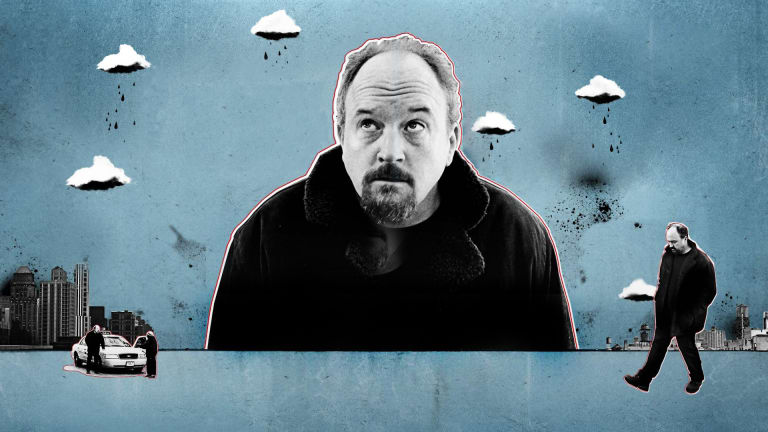 17 Brilliant Life Lessons From Louis C.K.
Smart man.
The comedian and actor is one of the most prolific personalities in our culture today. He's also dropped some smart and funny knowledge bombs over the years that are worth hearing.
1.) "I'm bored' is a useless thing to say. I mean, you live in a great, big, vast world that you've seen none percent of. Even the inside of your own mind is endless; it goes on forever, inwardly, do you understand? The fact that you're alive is amazing, so you don't get to say 'I'm bored."
2.) "You'll be fine. You're 25. Feeling unsure and lost is part of your path. Don't avoid it. See what those feelings are showing you and use it. take a breath. You'll be okay. Even if you don't feel okay all the time."
3.) "When you write from your gut and let the stuff stay flawed and don't let anybody tell you to make it better, it can end up looking like nothing else."
4.) "You know what, it's not your life, it's life. Life is bigger than you, if you can imagine that. Life isn't something that you possess, it's something that you take part in and witness."
5.) "Self-love is a good thing but self-awareness is more important. You need to once in a while go 'Uh, I'm kind of an asshole."
6.) "You know the only thing happier than a three-legged dog? A four-legged dog."
7.) "You've got to be optimistic to be single. Stupid. You have to be stupid. That's what optimistic means, you know? It means stupid. An optimist is somebody who goes, "Hey, maybe something nice will happen." Why the fuck would anything nice happen?"
8.) "People say, "My phone sucks." No, it doesn't! The shittiest cellphone in the world is a miracle. Your life sucks. Around the phone."
9.) "Some things I think are very conservative, or very liberal. I think when someone falls into one category for everything, I'm very suspicious. It doesn't make sense to me that you'd have the same solution to every issue."
10.) "When I was younger, I lied all the time, because once you understand the power of lying, it's really like magic because you transform reality for people."
11.) "I just don't trust any of it. Every time I read something about how there's been another ridiculous climb of the Dow Jones, there's a part of me that goes, "This can't be good." None of this is real money. You know what I mean? It's not like there's actually more of anything. It's just ideas. When people are getting richer and richer but they're not actually producing anything, it can't end well."
12.) "It's like when you're talking to a girl at a bar because you're attracted to her, the first thing you say is always gonna be dog shit. The most honest thing you could say to her is 'I wanna fuck your face.' That's the most honest thing you could say."
13.) "There are two types of people in the world: People who say they pee in the shower and dirty fucking liars."
14.) "If you're older, you're smarter. I just believe that. If you're in an argument with someone older than you, you should listen to 'em. Even if they're wrong, their wrongness is rooted in more information than you have."
15.) "Life's too short to be an asshole, as an employer or as an employee."
16.) "If you do something and people think you're stupid, just go for crazy. You get more respect that way because nobody likes stupid people."
17.) "Divorce is always good news. I know that sounds weird, but it's true because no good marriage has ever ended in divorce...that would be sad. If two people were married and they were really and they just had a great thing and then they got divorced, that would be really sad. But that has happened zero times."