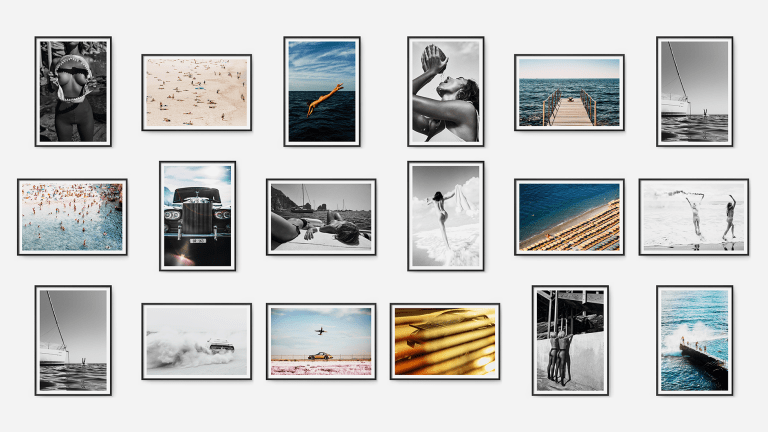 The Ultimate Guide to Gallery Walls
You've seen them on countless design blogs and Instagram posts, and have probably always wondered if a gallery wall was something you should attempt in your own pad. The answer is, if you can pull it off with aplomb and make it an extension of your personal style rather than something obviously staged for effect, then by all means go for it.
As Architectural Digest notes: "Hanging artwork in a cluster or geometric display is an eye-catching way to decorate a blank space and adds big impact." The many layers they incorporate are not only a great way to express yourself, but when done right can provide daily inspiration.
Acquiring enough pieces to make a gallery wall work might seem like the most daunting aspect of setting one up. But thanks to House of Spoils, the wildly successful online gallery that makes gorgeous, large-format photo prints accessible to all people of taste and style, there's never been a better time to make it happen.
House of Spoils' mission is deceptively simple: support emerging, super-talented photographers while providing buyers with stunning, world-class, already-framed artwork for their walls at affordable prices—starting at just $165 USD.
The categories that House of Spoils' prints are divided into say it all: Adventure, Aerial, Auto, Beaches, Black and White, Mountain, Nature, People, Southwest, Surfing, Travel, Urban, and Water. And each one is printed in the USA on heavy matte, artist-grade, acid-free photo paper using archival-quality inks.
If you're thinking it's time to finally build your own gallery wall, here are some key tips from Tadzio Dlugolecki, the Head of Product at House of Spoils, and our own Jack Archer, founder of AIROWS:
"Consider skipping the grid. Not only is it a tedious and daunting task but it will never look flawless. Always slightly off. Instead, focus on a mosaic that's perfectly imperfect. You'll save your sanity and make a bigger statement." - JA
"Map out your pieces on the wall with painter's tape before busting out the drill and filling your drywall with holes. When you've settled on the ideal, effortlessly cool arrangement, then start excavating." - TD
"Go big. Start with something large to anchor the space and then build your collection around it. The largest piece will always be the focus. House of Spoils' prints come in XL sizes like "giant" and "collector," at a massive 39.5 inches x 56 inches." - TD
"Keep it limited to two frame styles, max. Black and white, for instance. Or natural wood and white. Too many styles and it gets too busy; there's a fine line between nonchalant and sloppy." - JA
"Mix portrait and landscape pieces. You don't want to have a cookie-cutter effect. Different formats keep things interesting. And don't be afraid to mix in other mediums outside of photography." - TD
"Think color first—it should be the through-line that ties together all the different elements. This is not to say you have to stick with one color palette, but color ought to be your first consideration when planning your wall." - TD
"In accordance with the last tip from Tadzio, don't mix clean black-and-white photos with sepia tone photos. Likewise vintage color photos (think Slim Aarons) with something bright and bold with high contrast. Make sure it feels cohesive without being overly matchy." - JA
"Save the wedding photos and family photos for the desk and shelf, in smaller frames (4x6 or 5x7 ideally). Large photos of yourself and loved ones hung gallery style can feel a little... vain." - JA
Now that you've got the pro tips, it's time to make it happen. Head here to find the right images and sizes for your own space and make sure to use the code AIROWS10 at checkout for 10% off your order. Good through today only.