Four Separate Structures Make Up This Eye-Popping Hawaiian Retreat
Walker Warner Architects has recently revealed another gorgeous modern home design, which was built in collaboration with Philpotts Interiors and David Y. Tamura Associates.
Located on the Big Island of Hawaii atop a 1.5-acre site surrounded by a field of lava and grasses, the relaxed space "strikes a balance between modernity and tradition" with a composition that mixes canted steel columns and steep-pitched roofs with rhomboidal window and door openings. "It represents a contemporary interpretation of early Hawaiian hale shelters," Warner notes. "They're like modernist lean-tos."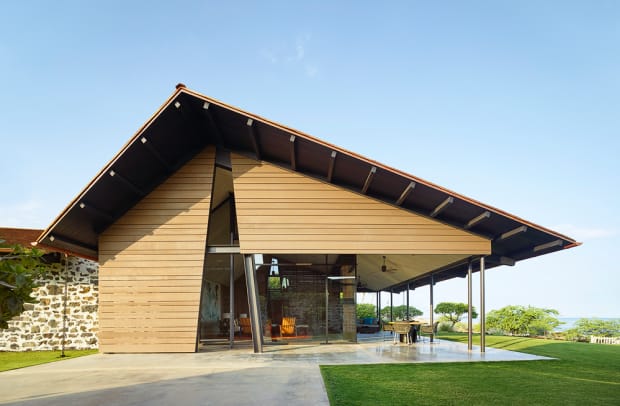 The home is made up of four independent structures: the main living pod which can transform to a porch-like setting, a recreational space for lounging and relaxing, and two separate guest suites with concrete-walled private courts for added seclusion. A lush courtyard, meanwhile, adds cohesion to the property. Perfection....