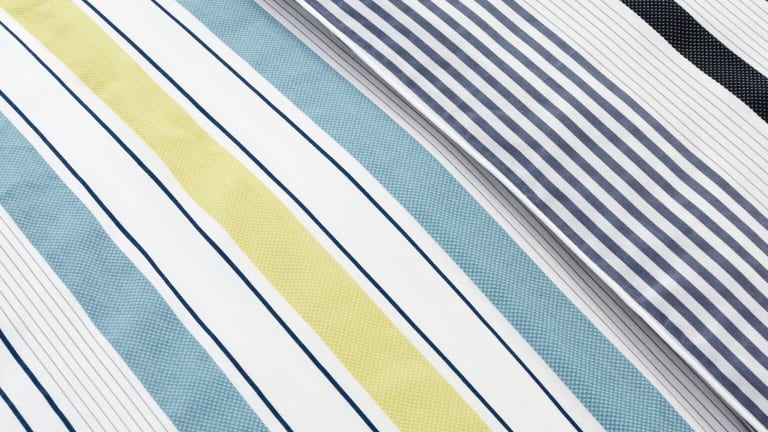 Upgrade Your Sleep With This Stylish Bedding Inspired by a Resort on the Côte d'Azur
Sponsored by Lacoste Home.
In 1933 French tennis ace René Lacoste began making polo shirts and one of the world's most enduring icons was born. Initially, the shirts were only offered in white, but soon Lacoste began making them in a wide range of colors, and then expanded into other items as well, eventually encompassing an apparel empire.
These days, the Lacoste name adorns a variety of products, all of them true to the ethos of Mr. Lacoste, who was the World No. 1 tennis player in both 1926 and 1927 and always played by the rules but made the game his own. Of particular interest to men of style is the selection of goods for the home that impart a bright, clean and classic look.
Calling it "preppy" doesn't tell the whole story. It's about a way of life that speaks of sportiness, irreverence, a dash of insouciance and a whole lot of fun. For bedding that translates into sharp lines and crisp colors in geometric, modern design patterns that we truly believe Mr. Lacoste would have loved.
The new Antibes collection, named after a famed resort on the Côte d'Azur between Cannes and Nice where the likes of Pablo Picasso, F. Scott Fitzgerald and the Duke of Windsor all frolicked along with Lacoste himself, is destined to become one of this spring and summer's most appealing offerings.
There are polo-appropriate color pops of reds, oranges and blues combined with classic neutral tones, all with the quality, style, and classic good taste one expects of anything bearing the Lacoste name.
This is the way to give your bedroom a stylish Mediterranean makeover, even if the weather outside is still anything but sunny. The navy blue decorative pillow in particular, embossed with words "LACOSTE EST. 1933" shows you know what all gentlemen of style have long been aware of–having a well-dressed bed is just as important as the man who lies in it.
Prices range from $100 to $350 with the collection now available at Macy's.