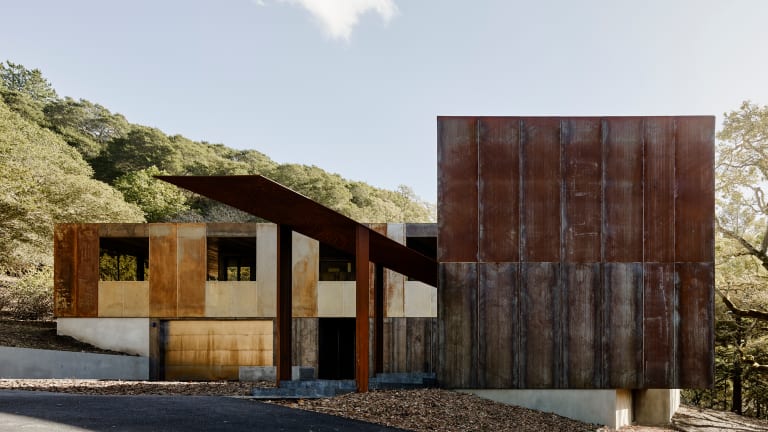 Inside the Ultimate Steel-Clad, Net-Zero Energy Home
Faulkner Architects has officially revealed the Miner Road House, a steel-clad and net-zero energy residence in California that you don't want to miss.
Beyond the style points, its steel cladding construction means its virtually maintenance-free as well as fire-resistant. The ladder is especially handy given the increasing frequency of wildfires here in the Golden State.
High levels of insulation and glazing efficiency dramatically limit the heating and cooling loads, while an 8.1kW photovoltaic system delivers an enormous amount of renewable energy covering all output and then some.
Rainwater is also collected via a waterfall from the roof, which is connected to underground tanks for storage.
The 3,725-square-foot, light-filled house spans three total bedrooms with unfinished oak ceilings and walls throughout the interior spaces. "The smell of the oak and feel of it underfoot builds a multisensory connection to the immediate landscape outside," notes the firm.
"The total of the limited and landscape-driven materials presents a relaxed and quiet built environment that allows the senses to focus on the natural environment. A haptic connection to the rhythms of our planet is present in the lives of the family."
Other noteworthy design detailings include a 12-foot-wide retractable glass wall that opens onto the patio and adjoining garden, a meditative "pacing deck" intended for long phone calls, a minimalist concrete-wrapped fireplace, and less-is-more furniture and decor choices through every space.
When can we move in...?