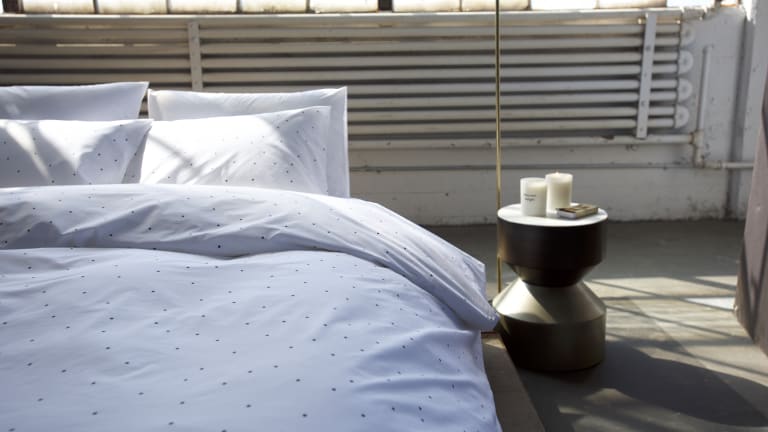 This Company Will Change the Way You Think About – And Buy – Luxury Bedding
Sleep like a king.
We've all suffered the anguish of wanting to sleep in the finest sheets and linens, yet wincing at the astronomical price of anything that actually qualifies as luxury bedding. As with other industries purveying pricey goods, it took a disruptive entrepreneurial venture to get us there without breaking the bank.
That'd be Brooklinen, bringing affordable luxury and ease of acquisition to your bedroom now. Aside from great prices on bedding that you wouldn't otherwise even dream of – or rather only dream of – owning, the company has broken the mold by offering mix and match purchasing, free returns, fast free shipping (yes, you read that right) and a lifetime warranty. We've tried them. We love them. And the thought of staying at a 5-star hotel is a little less appealing now that home is equally as comfortable.
Brooklinen makes it easy to upgrade your sleep status with a variety of materials, weights and weaves, from classic percale – medium weight and tighter than the standard weave used for bedsheets, it's firm and smooth and washes very well – to luxe sateen for the ultimate in softness and sybaritic snoozing, as well as pure linen for those who want to keep things natural and effortlessly elegant.
Quality is always impressive, and the mix and match options – over 2,000 of them – lets you customize your bedroom look without making you buy expensive sets you don't want, allowing for a cool contrast in color between sheets and comforter, while everything is designed to harmonize on a basic style level so you're never left with a clownish, clashing effect. Their mix and match Hardcore Bundle, which includes a Core Sheet Set, one duvet cover and two extra pillowcases, saves you 25% when compared with buying each of the pieces individually.
That's only half the equation obviously, and Brooklinen belts it out of the park on design. The fine points are things like envelope closure pillowcases so your pillows don't bulge out of their coverings; "short side/long side" tags on fitted sheets so you don't waste precious time puzzling out how the damn things fits on the mattress; ties at all four corners of duvet covers so you can get them on and off with ease and make sure they stay put, and baffle box construction on comforters, which are available in both Down and Down Alternative fills, to prevent the otherwise ever-present evil known as "bunching."
Bundles are another way Brooklinen puts your interests first. The Move-In Bundle is a complete bedroom overhaul that leaves you looking like a design pro from day one in your new pad. It includes a "Hardcore" sheet set in the weave of your choice, a pair of plush pillows and a comforter in the weight and material of your choice – not what some department store despot decides to sell you.
Which brings us to one final point about Brooklinen which is what keeps their pricing eminently affordable: their direct-to-consumer model cuts out the middleman and his dreaded markup, avoids the overhead of a brick and mortar operation and makes the whole shopping experience utterly seamless. Even better? We have an exclusive promo code to save you more cash. Use "AIROWS20" at checkout for $20 off and free shipping.
So prepare to get a great night's rest and have your sleeping quarters looking fantastic, which is bound to seriously impress the person you choose to bed down with. One caveat: they may never want to leave....