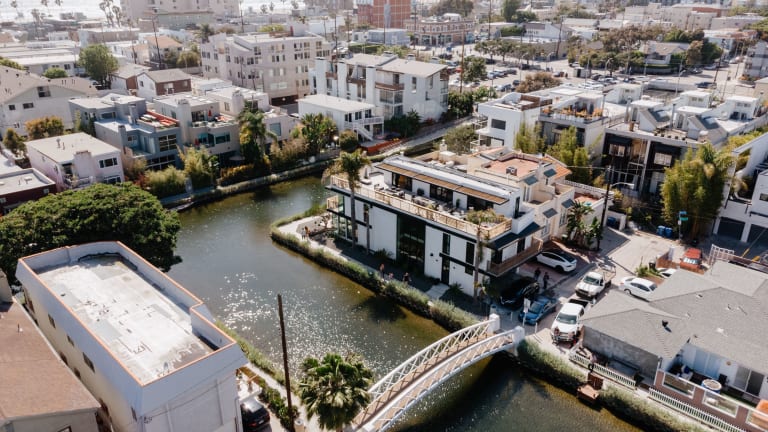 This Contemporary House in Venice Beach Is a Design Masterpiece
When a rare corner lot in L.A.'s coveted Venice Canal Historic District came available recently, developer BREAKFORM | RE and its sister company, BREAKFORM | Design, knew exactly what to do with it. The integrated real estate investment, management, development, design, and build companies wanted to evoke the area's history of incredible architecture while creating something contemporary and super-cool that could become a modern icon.
The resulting three-bedroom dwelling has a hard-to-come-by water view as well as outdoor space that's more usable than any other home on the canal. Beautifully designed and scaled but warm, and modern but functional. And the materials are incredible: aluminum, zinc, treated ash, natural woods, Calcutta umber marble, quartzite, sipo mahogany, white oak floors, "all elements that live and breathe and survive in nature, sustainably sourced and coherently aggregated," as the company puts it.
The overall vibe is calming and invigorating at the same time. Formal and informal spaces converge with ease, thanks to an intelligent layout that merges the kitchen and dining room which flow effortlessly into the formal living space. It's designed for entertaining friends, colleagues, and family, and transforms when the numerous doors are opened up – each room has one but the main space.
The most unique feature is a 40-ft. sliding glass door that's literally a showstopper and really delivers the ideal indoor/outdoor experience. Especially when coupled with the expansive rooftop deck designed for lavish entertaining – the largest usable roof deck in the Canals – complete with a fire pit.
One by one BREAKFORM | RE conquered the challenges the project presented: dealing with privacy in a walkable community, getting scale without it feeling boxy, bringing in light without affecting privacy, and integrating the living the spaces. The location is ideal, just a short walk to the beach and the bustling Abbott Kinney Boulevard, home to some of the city's best shopping, dining, and entertainment.
The grounds are also remarkable thanks to a rare 100-plus-year-old dwarf bottle brush tree guarding the home like the famed 'Lone Cypress' at Pebble Beach, in addition to sustainable desert gardens with rocks juxtaposed against the stark ivory stucco exterior. Two giant palm trees also rise up to roofline, keeping things green yet urban.
This is truly a residence that adds to an already unique community and its character, making both the new owner and the neighbors proud. Good design doesn't need to shout to be heard.