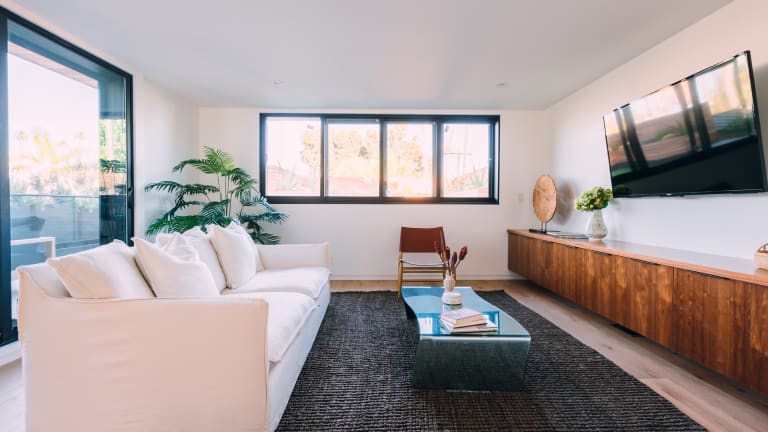 This Cool Contemporary House in Venice Beach Will Have You Dreaming of Building Your Own
Building a house in Southern California's iconic Venice Beach requires a design so beautiful the neighbors will welcome you with open arms and a space so perfect you'll want to live there forever – and have a great investment to boot. Contemporary is obviously the way to go but there are many pitfalls which can only be avoided by hiring a firm that really knows what it's doing.
Ridaa Murad (Managing Director, Chief Investment Officer) and Ramsay Daham (Director and Chief Development Officer) of Breakform, an integrated real estate investment, management, development, design and build company based in Los Angeles, recently showed that they've got what it takes with the completion of a cool new Venice Beach pad.
Key features are a soaring custom entry glass door leading to a completely open and seamless floor plan, wide plank flooring, custom walnut kitchen cabinets, a dining area with retractable glass doors leading to a patio, a media room with sliding glass doors leading to a roof deck, and a large master suite with a wood plank ceiling, a walk-in closet and a separate office area leading to a private outdoor deck.
Murad and Daham kept the neighbors happy by preventing the build from blocking neighboring houses' sunlight, while windows were strategically placed to capture as much ocean breeze as possible and minimize the need for noisy and expensive air conditioning.
"I think Venice is very interesting because it's one of those markets where the lots are literally on top of each other," Murad tells AIROWS. "It's one of the few places where people don't want you to build stuff. We're proud that we have neighbors that have been here for decades and we managed to build this house with a sense of place."
He continues, "We sat down and worked with the community, actually had an open meeting and explained to the neighbors how we will enrich, not take away. It all played a role. The last thing we want is for Venice to become a community that is generic. So this fits in. It's cool, it's modern, it's edgy, it's different. But it's not overwhelming."
Design-wise, angles played a very important part. "We tried to have as many angular lines as we could," Murad notes. "The cabinetry, the stair slopes, the slant of the window shades, the roofline, the whole house kind of works in angles. The last thing we wanted was for the home to look like a big box. It's the biggest complaint you hear about any new project. Square, linear, single lines, plain. So our focus was to go the opposite direction while still having very usable space."
Mission accomplished.