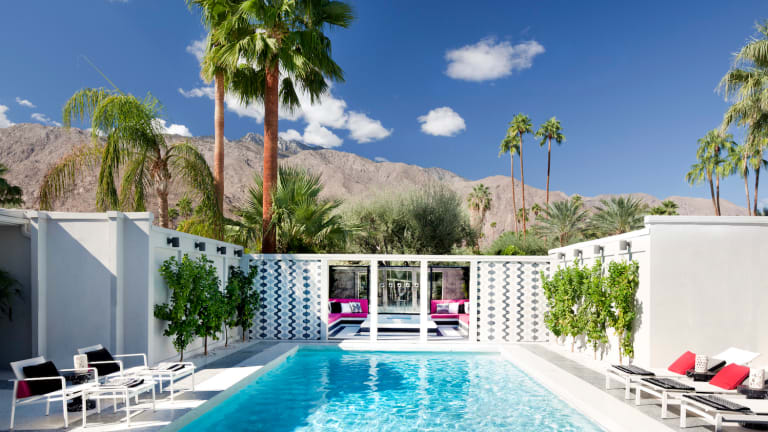 This Must-Have Book is a Tour of Palm Springs' Most Stunning Estates
Palm Springs is one of our favorite places on the planet, thanks to its mix of effortlessly cool architecture, Rat Pack heritage, and desert oasis landscape. We know most men of taste and style agree, so they'll want to pick up the latest beauty in book form from famed photographer Tim Street-Porter, a lavish love letter to Palm Springs' most alluring properties and estates.
Palm Springs: A Modernist Paradise, published by Rizzoli and now available for pre-order on Amazon, pays homage to the mid-century modern masterpieces that populate the stylish Sonoran desert town with its iconic houses designed by the likes of Richard Neutra, John Lautner and Albert Frey, as well as newer residences created in keeping with the impeccable aesthetic standards of the place.
In addition to Street-Porter's stunning images is insightful text detailing the history of tasteful construction in the town, a trend begun by famed actor and style icon Gary Cooper who commissioned one of the very first modernist houses there in the 1930s.
Frank Sinatra, Dean Martin, Steve McQueen and others followed suit, and the book notes Palm Springs' "architectural legacy remains unsurpassed for its originality and influence," with most of the once-disregarded edifices now lovingly restored.
A resource section in the back of the book even provides a list of modernist furnishing stores and other points of interest for when you finally make it to Palm Springs in person or want to pad out your bucket list.
As Street-Porter notes, "Palm Springs is seductive. The air is fresher, the sunshine more intense, the stars at night are brighter, and the cocktails just taste better." We couldn't agree more, and whether you already love the place as much as he does, or are just getting initiated, this book belongs on your coffee table.