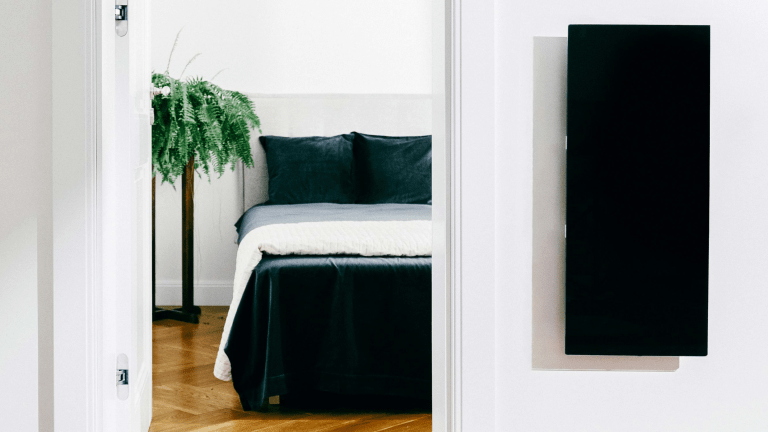 10 Home Upgrades Worth the Splurge
Working from home lately? Us too. Might as well hygge-ify it with these suggestions that will add to your comfort levels and impress your imaginary guests (and eventually your real ones).
Graypants Oliv Pendant Light, $355
Based on your overall aesthetic, this ceiling light from Graypants can imbue your space with either international art heist or underground bunker sushi bar vibes. Can't go wrong either way.
Copenhagen's Mater churns out immaculately carved furniture for a variety of household needs and their Bowl Table is an easy way to class up any situation in need of graceful functionality.

This smart infrared heater from Koleda is an ultra-thin, tasteful approach to temperature control. Bonus points for saving the environment with smart scheduling capability.
British designer Tom Dixon creates this technically complex decanter by fusing clear and solid black glass into one.
Bang & Olufsen Beoplay M3 Speaker, $299
Bang & Olufsen's Beoplay M3 speaker is a masterclass in elegant design. Not only does it look tremendous in any room, but it can also connect to connect easily to other B&O wireless speakers (à la Sonos) and boasts an immersive sound experience that belies in compact form factor.
Handcrafted in Italy, this stylish candle from 19-69 tributes Paris with "cold and fresh" scents to ease your body and mind.
Molekule Mini Air Purifier, $399
Not only is the Molekule Mini a highly effective air purifier but it boasts a design beautiful enough to be on display, not hidden away. We especially love the out-of-box experience which kicks off with a simple, guided setup and easy-to-use iOS app. And its gentle hum doubles as an ideal white noise machine for the bedroom.
Kickstart your daily productivity with the best night of sleep available on the market. Purple plies uniquely engineered, cool-inducing mattresses that bestow a superior slumber, especially for hot sleepers. Forget Casper's swampy foam beds—there are three Purple options, and for those willing to drop whatever it takes to awake with maximal freshness, the Hybrid Premier is the answer. And if your back deems the Purple mattress's peculiar consistency effective in counting lower sheep quantities, give your head a chance to weigh in. The Purple Harmony Pillow applies the same flop-inducing formula for a massive boost in sleep quality.
Erik Jørgensen Delphi Sofa, $POR
And if you're one of the fortunate enough to be stockpiling funds in this time of decreased social spending, we'd recommend first donating to local restaurant relief funds. And then consider this jaw-dropping sofa from Erik Jørgensen.
Nathan Lindberg Teak Sideboard, $POR
Or similarity, this untouchably cool credenza from German furniture design Nathan Lindberg.