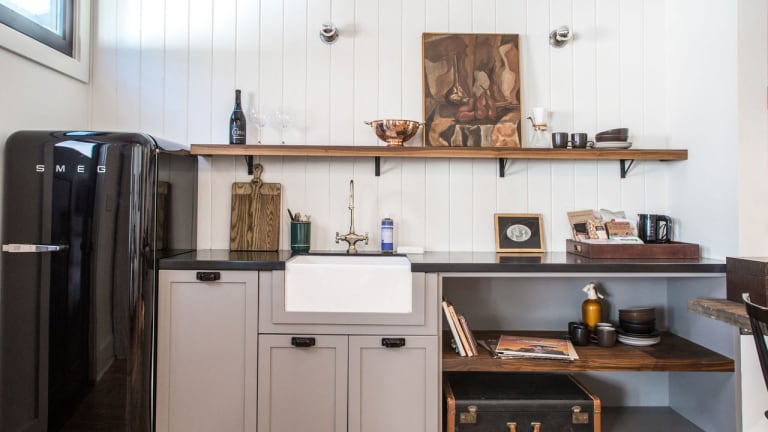 15 Interior Design Moves To Steal From LA's Coolest Hotel
Sponsored by Home Depot.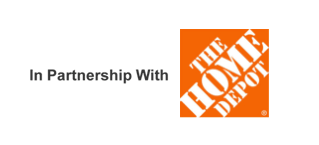 Hotel Covell might be a hotel by name, but it's more like a collection of effortlessly cool apartments. Intended for both long and short-term stays, the LA establishment differentiates its guest experience with several unique room layouts where every detail is carefully considered. Make your spot just as worthy of a weekend getaway as Hotel Covell by borrowing these ideas from its stellar interior design and implanting them thanks to some key purchases from Home Depot.
1.) Light It Up
Don't settle for the cheap fluorescent ceiling lights that were included with your home. Hotel Covell perfectly balances table lamps with installed lighting that's simple, effective and sets the mood. Get the look here.
2.) Get Wired
When it comes to form vs. function, wire racks offer the best of both worlds. The hardware itself looks classic and the railing will keep all your grooming essentials from tumbling off the vanity when you're fumbling in the morning. Get the look here.
3.) Brush Off The Brass
Brass hardware doesn't have to be tacky. The trick? It's all in the finish. Seek out fixtures with with a brushed, antiquated look rather than a bright sheen. Get the look here.
4.) Go Green
Plants always add personality to a room and larger ones can be effective in filling an otherwise empty corner or wall. For freestanding flora, the bigger the better. Get the look here.
5.) Granite Feels & Looks Great
Granite countertops are all class and that's not likely to change anytime soon. They'll hide stains decently as well. Get the look here.
6.) Keep It Simple
White interior paint makes for a clean, fresh atmosphere. Get a roller, throw on the Airows podcast and slap on a fresh coat. Get the look here.
7.) Private Paradise
Much like white interior paint, white bathroom tile is a classic look that goes well with everything. Done well and you'll feel like a sultan in his own private bathhouse. Get the look here.
8.) Natural Light + Beautiful Windows = Success
This is one we can't stress enough–natural light makes a tremendous impact on quality of life. Maximize that impact and those rays with new glass panel, and frame it with dark wood. Get the look here. Get the look here.
9.) Bright Is Best In Small Doses
The flashy retro green wall tile that Hotel Covell employs sparingly works so well because it's in contrast to the starker surrounding details: the white fridge, the black table, brown cutting board. If you're going to go loud with wall decor, do so in an area where it isn't competing for attention. Get the look here.
10.) Chandeliers Are Massive Style Points
The best interior design moves maximize both form and function—and a beautiful chandelier should adhere to this rule. Be willing to drop a solid chunk of change on one that fits your personality­. It'll last a long time. Get the look here.
11.) Drape It White
White curtains speak to a high level of sophistication. Translucent, plain curtains are a more subtle look and allow for natural light to spill through. Get the look here.
12.) Lay It Down Dark
A dark hardwood flooring option looks great in contrast with white details like the curtains, but it should also complement countertops and shelves. You'll want to block out a whole weekend for installing this one but the results are beyond worth it. Get the look here or here.
13.) Or Try Vinyl
Vinyl flooring, while maybe not quite as attractive, is a more affordable option and with proper installation can be just as durable as hardwood. But the biggest benefit to any busy man is less upkeep–it's much easier to clean. Get the look here.
14.) Paint It Black
Black never goes out of style. Throwing a fresh coat of dark paint on standalone items—doors, shelves, frames—is easy and makes a room feel brand new. Get the look here.
15.) Reflect (Horizontally)
Horizontally mounted mirrors are often neglected in favor of their more functional vertical cousins. But a well-positioned foyer mirror can be both modern and a more affordable option than a decent piece of art. Get the look here.