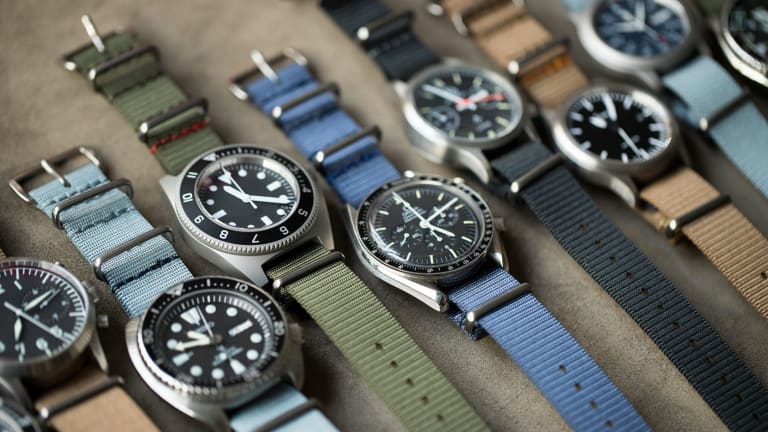 Score 50% Off Worn & Wound's High-Quality NATO Straps
It's summertime, baby. Well, almost. And that means it's time to take the stainless steel bracelet or leather strap off your go-to watch and throw a lightweight, ultra-comfortable NATO on that bad boy.
The NATO is rooted in military heritage with nylon construction that provides insane amounts of durability and wearability. It also looks good on pretty every tool or dive watch and is specifically nice to have on when the weather heats up. (Swimming and sweat are no match for it.) There are plenty of extra-cheap options out there but none quite as good as this take from watch blog Worn & Wound.
Their USA ADPT Strap is designed from the ground up and is 100% sourced and made in America from a 420D custom nylon weave and 316 stainless steel hardware with a natural finish. It's laser cut to Worn & Wound's specs and then finished and stitched in New York City with American-made thread. It also comes in 18, 20 and 22 mm sizes, which covers pretty much every watch under the sun.
For a limited time, the black and green straps are 50% off, bringing the price down to just $21. A seriously good deal for a seriously good NATO, this is just the thing you need to make an old watch feel brand new again.