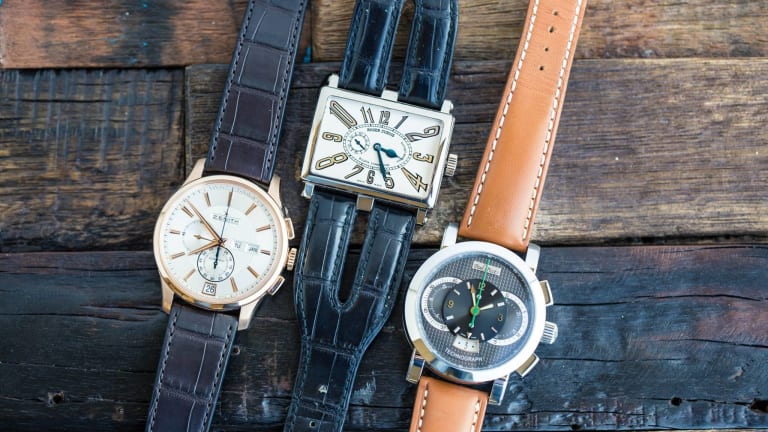 The CarMax of Luxury Watches Is the Best Place for Steals and Deals
Panerai, Omega & more.
I asked Hamilton Powell, founder of Crown & Caliber, what separates his business from the likes of Rolex superstore Bob's Watches and vintage obsessives Analog/Shift. "It's simple," Powell said. "They're specialty. We're everything. Think of us as CarMax, but for luxury timepieces."
Though he's probably not crazy about me advertising the comparison, it's an accurate one. Used car retailer CarMax is known for a few things: incredible honesty, incredible customer service, incredible warranties, incredible deals, and an incredibly wide selection of automobiles. Though C&C isn't catering to the 2009 Toyota Camry crowd–you'll never find a watch for under $1,000 in their shop–they abide by very similar principles. It's a no fuss operation that carries every top watch brand under the sun and treats all customers like full-blown royalty. In a world with shady local jewelers and questionable eBay sales, they don't just offer value, they offer peace of mind.
I asked Powell about their trade-in program–I had an old Tudor Black Bay that wasn't getting any time on the wrist–and he put me in touch with one of their customer service reps who gave me the lowdown on everything. It goes like this: they send a pre-paid UPS label to you via email, you ship it out to their HQ in Atlanta, they give you a quote, and you let them know if you want a check or another certified pre-owned timepiece in their inventory. I was shocked by how simple and easy the entire process was. In less than a week, my Tudor was swapped out and a fresh timepiece arrived at my doorstep. No back and forth or haggling, just ease–and overnight shipping.
If you're in the market for a fresh Jaeger LeCoultre, Hublot, Breitling, you name it–definitely consider Crown & Caliber.
Here are a few favorites currently in their inventory:
Happy shopping...