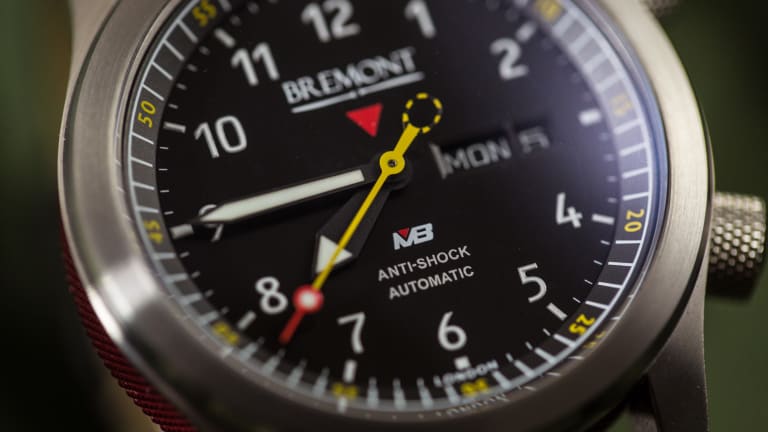 The Watch That You Can Only Get by Risking Your Life at 30,000 Feet
There are certain incredibly exclusive watches that no amount of money can buy: a presentation Rolex from the Daytona 24 hours, for example (you have to win the race), or an official Omega Speedmaster worn on a Moon mission (NASA owns them all). One of the coolest in this club is the Bremont Martin Baker Ejector Seat pilot's watch, which you can only get by having used an actual ejector seat on an aircraft.

Unless, of course, someone decides to sell one, which we'd say never happens – except that Crown & Caliber has managed to track one down. It was owned by Jim Bernthal, a Marine Corps pilot, Iraq veteran and flight instructor who was forced to eject from a 600 mph-plus T-45 Goshawk at Naval Air Station Meridian in Mississippi in 2008 and suffered major injuries as a result.
Bremont, a British watch brand, partnered with Martin-Baker, the manufacturer of 70% of the world's ejection seats, on the stylish watch which undergoes rigorous testing like the seats themselves. It has a black dial, and a stainless-steel case with a distinct red aluminum barrel while the seconds hand is in the form of a jet ejection handle.
Bernthal's watch has his initials, ejection number and date engraved on the caseback, and though he values it highly, he has decided to sell it to help finance his studies while pursuing a PhD in industrial and organizational psychology. It also saves him the trouble of picking which of his five sons should inherit it.
A major opportunity for the savvy collector (we mean you), especially if you have the means to acquire at the price of $55,000. Of course, they have some other cool, certified pre-owned Bremont timepieces on hand as well. And for those who prefer new, those are also available online. Here are a few favorites:
This ultra-rare watch was built with original parts from the famous World War II Mustang P-51K-10 aircraft from 1944 that help America's Air Force establish dominance in the skies.
Sailing is another interest of Bremont founders Nick and Giles English, and this piece pays tribute to the world's greatest yacht race. Powered by a self-winding mechanical movement.
Another timepiece designed in collaboration with Martin-Baker, though you don't have to risk your life at 30,000 feet to get one. The blacked-out DLC coating gives it a stealth bomber look.
A tribute to the great aircraft manufacturer, the Boeing Model 1 is one of Bremont's most classic looking chronographs, with a crisp white dial and clean graphics.
Powered by Bremont's caliber BE-50AE self-winding mechanical movement with a 42-hour power reserve, this black-cased 43mm beauty's contrasting subdials give it an elegant air of menace.