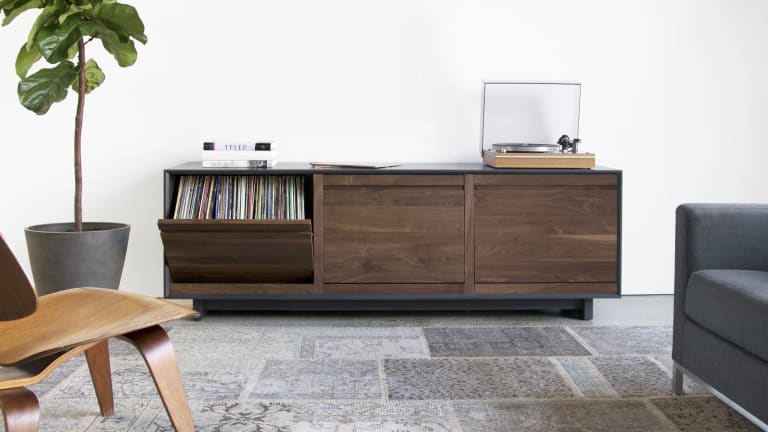 3 Things You Need For The Ultimate Hi-Fi Setup
High quality listening.
Sure, that bluetooth speaker setup might get the job done, but it's only a satisfactory experience compared to the warm and rich sounds of classic records. Plus, unlike music subscription services that take away the fun of collecting albums, gathering classic and new vinyl for your collection is far more satisfying than building playlists in an app. Here's what you need to do it right.
The U-Turn Orbit Plus turntable is minimal, cool, and comes in at a fantastic value. There's no unnecessary bells and whistles, just everything you need to play some warm and high quality tunes. Everything is assembled by hand in Massachusetts and even comes with a totally free record from an Airows favorite artist: Leon Bridges, Edward Sharpe And The Magnetic Zeoes, Alabama Shakes, Elvis Presley or D'Angelo.
Audioengine's HD6 powered speaker system features built-in amplifiers, Kevlar woofers with die cast aluminum woofer baskets, and custom silk tweeters with neodymium magnets and ferrofluid-cooled voice coils, which all adds up to some serious oomph. On top of having great sound, they're super easy to set up – most options are frustrating and confusing – and simple to use. Plus, they look damn cool.
Good speakers and a good turntable are important, but they mean nothing if you've got a bunch of ugly wires everywhere and it's sitting on a poorly sized table. Thankfully, there's a beautifully designed cabinet by SYMBOL Audio that would add serious style points to any room AND is specifically designed to store various vinyl records. You can't do better than one of these.