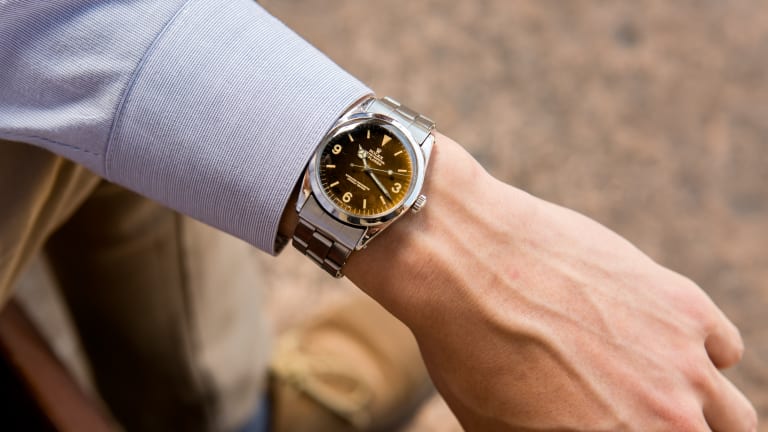 Can You Guess Which Rolex Was James Bond Creator Ian Fleming's Watch of Choice?
The Rolex Submariner gets all the publicity. And indeed on-screen Sean Connery's Bond wears one to devastating effect. But dashing author and former British naval intelligence officer Ian Fleming, who mainly modeled 007 on himself, wore a Rolex Explorer.
Indeed the earliest mention of a Rolex in the Bond books refers to it only as a stainless steel model without specifying further. But it's safe to assume Fleming was referring to the watch on his own wrist, just as Bond originally drove a Bentley just like Fleming himself.
"A gentleman's choice of timepiece says as much about him as does his Saville Row suit," Fleming once wrote. And while the Submariner may be the world's most versatile sports watch, the Explorer is a shade more elegant, or at least less obtrusive, when worn with fine tailoring.
To be exact, Fleming sported an Oyster Perpetual Explorer ref. 1016. Examples closest in age to Fleming's own with a perfectly aged "tropical dial" go for around $15,000–$25,000 or so online, but as the Explorer is one of Rolex's earliest and most iconic models, the basic looks of the original Explorer haven't changed that much over the years.
Explorers with "creamy" patina – meaning the hands, numbers and markers have faded to a mellow tone over the years – command more of a premium, which is why this example from 1986 will run you $1,000 more than this beauty from 1979 which has more history but not that killer fade.
However, you can get a modern Explorer with the same classic good looks for a lot less money, like this 2001 model which costs $4,895. If Fleming were around today we're sure he'd call it an excellent choice.